How to launch your own Forex & Crypto Brokerage in 2020?

Category :
Forex Brokerage

By:
Calvin Morris

25-05-2020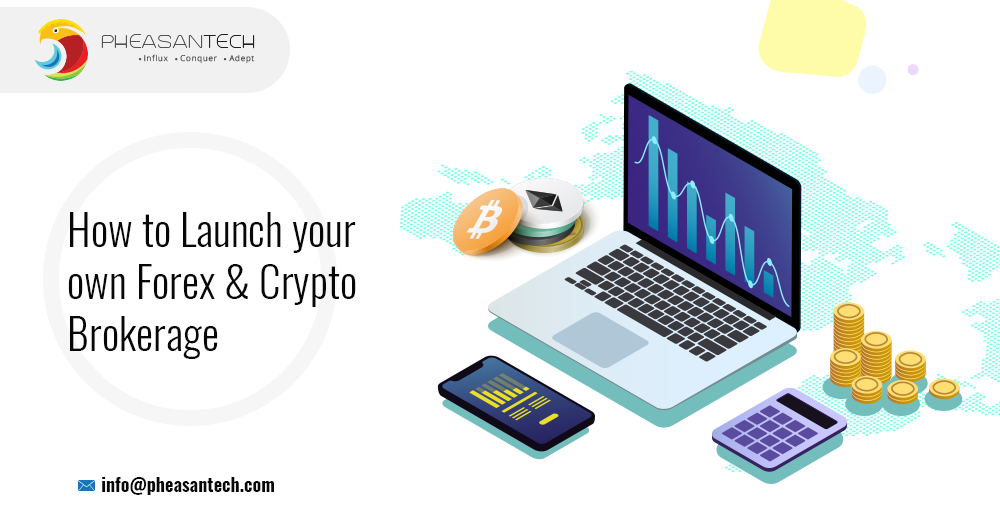 The world has changed, indeed!
In last few years, starting from economy to the people, everything has changed. Therefore, no matter what plans we entrepreneurs had, it needs to be revised. Technologies such as Blockchain, AI/ ML, and Cloud has brought forward a new world. Can we expect them to sweep over the entire world in next 20 years??
By all means, YES!
Same way, how countries do business with each other has changed very drastically. The response to COVID – 19 pandemic has dealt a big blow to economies and every country is now steering towards self-sufficient economy models. Don't you think this will create an impact on forex trading? All these economic stimulus packages will infuse money into the system. What will be its impact on global currencies & crypto-currencies?
We are going to witness a global economic revival.

We are going to make the RICHEST WORLD EVER, in the coming decade!
And we will need more and more money flowing through all possible channels – banking, trading, ecommerce, crypto-currency & forex exchange, infrastructure development, manufacturing & services. Here are some facts…
Global cryptocurrency market is projected to cross US$ 1.4 Bn by 2024
From key psychological level of $10,000, Bitcoin may rally to $15,000
India launches India INX (IFSC) & NSE (IFSC) for international exchange
So, this is the right time to think about forex & crypto brokerage. This is how you can start your own forex & crypto brokerage.
How to launch a Forex & Crypto Brokerage?
Here is the step-by-step process for launching a Forex & Crypto Brokerage…
Step 1: Form a company and obtain license
Regular currency or Crypto-currency, is a sensitive sector and every country has its own regulations. So, the first thing you need to identify the country you want to register your company and study its legal requirements for licensing. In fact, you need to study different countries, their tech infrastructure, and economic health, to choose the right country. Ensuring the regulatory requirements and obtaining licence is the first step.
Step 2: Get forex/ crypto-currency trading software
This is probably the most important step in the process. Because this software is where the business is done. So many people – from traders to introducing brokers (IBs) – everyone will judge you based on this. Basically, this is a combination of Customer Relationship Management (CRM) software and Trader's Room. This software allows the traders to manage their accounts and also allows your team to manage the back-office functions.
Step 3: Set up liquidity & payment channels
Liquidity is the indicator of your brokerage's health. It plays a very important role in boosting the trust among traders. Depending on the country, you can find Liquidity Providers who can offer you deep liquidity for a fee/ commission. Also, you need to partner with Payment Service Providers to offer safe & fast settlement of online payments. Once you have completed step-3, your tech-infrastructure for a Forex & Crypto Brokerage is ready.
Step 4: Go for beta testing and go live
However, no broker wants his traders to experience glitches in system – it has its own technicalities. You need proper integration of all the functions to retain maximum number of traders on board. This makes 'Hiring Technology Provider and Offshore Partner' very important. With the help of technology partner such as Pheasantech, you can ensure that the set-up works well in beta testing and is ready to GO LIVE.
Step 5: Launch a marketing & PR campaign
Now you need to focus on getting more and more traders & IBs on board. Here, both your personal networking and advertising helps you. You can slowly build a big network but initially you need to put more efforts in marketing & PR to build a reputation. Be sure that there are many companies fighting for the same space that you are aiming for. So, you need to understand your TG and attract them with an appropriate set of offerings.
PheasanTech is your trusted partner for setting up your own Forex CRM. Starting from the company formation to licensing procedure, from the CRM to Digital Marketing and apt advice on liquidity and payments – PheasanTech offers you the solution for everything. This is the time to think big and foray into the Forex & Crypto Brokerage business. Get in touch with PheasanTech on Skype or send an email to [email protected].

Tag:
Forex CRM
Best Forex CRM
Get Started with Pheasantech
Recent Post




Category
Follow