Case Study
Project brief with an outstanding
GCC Brokers is a brokerage firm based in Hong Kong, started off in 2016. It was born out of the need for high-quality and a more accessible way of trading. GCC Brokers, known for its experienced and professional team of Forex experts aims to provide top-notch trading technology to traders making their way to success in Forex. It offers trading conditions such as high leverage, tight spreads, low minimum deposit, a wide range of products and much more; all under one roof. On the grounds that quality matters, both GCC and PheasanTech allied to create a sleek, simple and rich website, CRM software followed by branding which would streamline their process further. We accompanied them with the Trader's Room application as well for the CRM.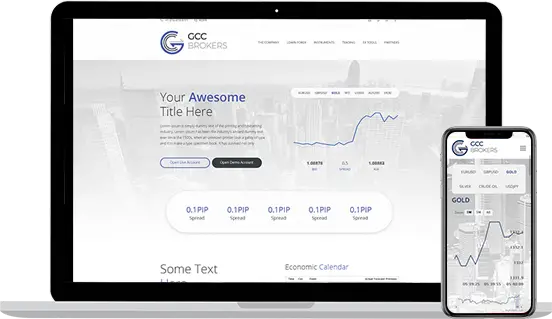 GCC
The Challanges
The client wanted something which is pure quality and would embark their journey in Forex industry with grandeur, equally the industry has. Since they were cropping up in the market, they chose many solutions at once which we categorized finally at sub-tasks.
Choosing the right framework
Determining the right Live Chart
The adapting elements of MT5 which was quite brand-new for us at that time.
Solutions
Website: Responsive Website design, web forms, Smooth UI, website development, live chart, live quotes, CMS admin panel, live chat
CRM: Trader's Room, CRM integration with the website, Web forms
Branding: Logo Design, Social Networking Profiles, MT5 Icons
Content Writing: Content writing for 3 languages: English, Arabic and Persian, Simple, Precise and Relevant, SEO friendly, Proofreading
Result
The Brand Grow, We Grow
As GCC Brokers were landing in the industry, the first and foremost suggestion from our end was the branding (logo). We designed several options for the logo.
Moreover, they wanted something in the dark which was according to the market conditions, the dark blue & grey logo stood as a perfect fit. We designed the same for MT5 icons and social networking profiles.
When it came to the website, GCC Brokers were very selective & clear of what they want and how. We started off with wire-framing to get the exact know-how trailed with UI & UX development. We used word-press technology along with other frameworks of PHP. The reason behind using it was - they wanted CMS panel from where they can edit the information. The live chat came into existence for the purpose of serving the clients better.
In the end, there were 3 choices for the homepage given from our end and accordingly, the rest of the designs were finalized & approved by the client. Moreover, the content writer team handled the website's translation section and branding of social media as well which will have definitely a significant impact.

Excellent service support of Pheasantech. Its been more than a year we are associated with them . Your CRM solution makes our work more easy and comfortable. Easy to handle, sort everything in a minute.Amazing team, who are always there to support you. In short if we say quick and smart team work in Pheasantech.

Mr Rajesh Karlopia
FX Wonders

It been more than year and Half to be associated with pheasant Tech and you guys ensured no stone left unturned. Your top notch customer support and always up for challenges approach makes you people true Diamond. Well Done.


Excellent work, amazing team, effective cost, quick support and smart work!!! The output is beyond the expectation so really appreciate the team efforts.


They offer honesty service to the customer when we have a trouble they get quick response and solution for us.


Excellent CRM system and custom finstech solutions software development. Solid support and follow up.

Wael Al Kel
Evolution Brokers