5 Common mistakes you can avoid while using a Forex CRM
Category :
Forex Brokerage
By:
Calvin Morris
21-10-2020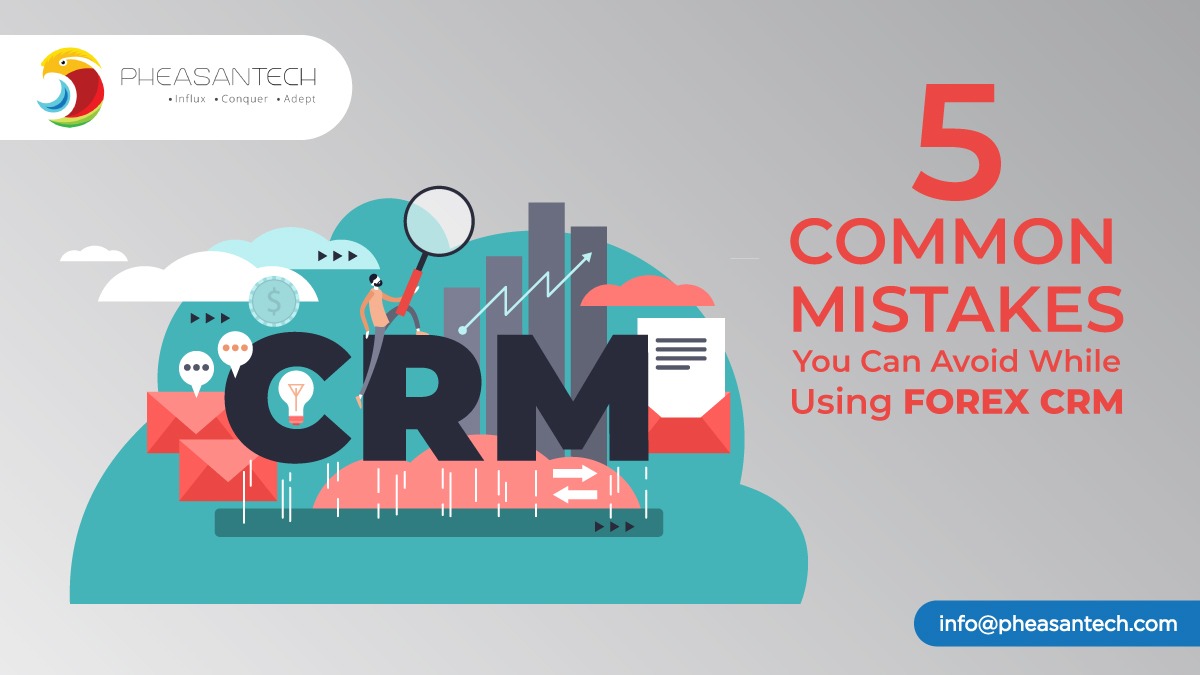 Man is meant to make mistakes and so does a businessman. To make mistakes is not in our hands but from our errors we can learn wise and good wisdom for the future.
In the case of Forex Brokerage, the mistakes become costly and you have to pay high for correcting them. Here we can help you avoid some mistakes which you are likely to do when using a Forex CRM. In fact, Forex CRM is such a powerful tool for Forex Brokerages to manage better relationships with your existing and potential customers, that you can achieve high sales goals with it if used wisely. To make most of it and to avoid some silly mistakes, here is a list of a few don'ts which can help you maintain a happy and satisfied customer relationship.
No analysis or monitor of a lead
The broker should know and understand where the potential lead is to come in the future. Be it social media, digital ads, reference from existing clients or searches on mobile. If you don't analyze all your leads and understand the flow of lead source, then you will find it very difficult to know from where your leads are coming and where should you pay more attention. Using Cloudforex CRM, gather the data and run analysis automatically and avoid mistakes and bottleneck situations.
Not understanding the issues of Traders – delay in solving the problems of Traders
Being a Broker, you may never want to lose even a single number of your trader because of your silly mistakes. If you don't help your Trader, resolving their issues in time, the traders will eventually lose interest and ultimately can give up on trading. To avoid such losses, you need to help your traders resolve any technical glitches your CRM has. Cloud forex CRM offers a ticketing module that efficiently works for traders and the broker to maintain a healthy relationship.
Not having updated the latest version of CRM
In this technology era, every day there is an improvement in the existing system. It is a must for the traders to keep their CRM updated with the latest features available in the market. If you fail to do so, your trader may go to another broker where he finds the latest technology. Cloud forex CRM comes with all the latest features for CRM and from time to time offers updates on the existing versions as well as comes up with new versions.
Unawareness of sales team regarding the features of Forex CRM you are using
If you have the latest CRM with all the modern features but your team is not having proper knowledge of these features and their application area, then it can be a disadvantage for your business. As and when you hire a sales team member, proper training of your available systems is a must. A trained salesperson can help the potential leads understand the features of your system.
Not keeping a record of the communication in your CRM
If you don't keep proper track of your communication with the leads, in the future you will find it difficult to recall. CRM offers email history and chats history which the sales team can refer to if maintained regularly. The broker can analyze the date and adjust the sales pitch accordingly. Cloud forex CRM software helps you manage communication effectively.
For more detail Skype us at calvin.pheasantech or log on to www.pheasantech.com
Get Started with Pheasantech
Recent Post




Category
Follow