Forex Digital Marketing for Forex Brokers
Category :
Forex Digital Marketing
By:
Calvin Morris
30-01-2018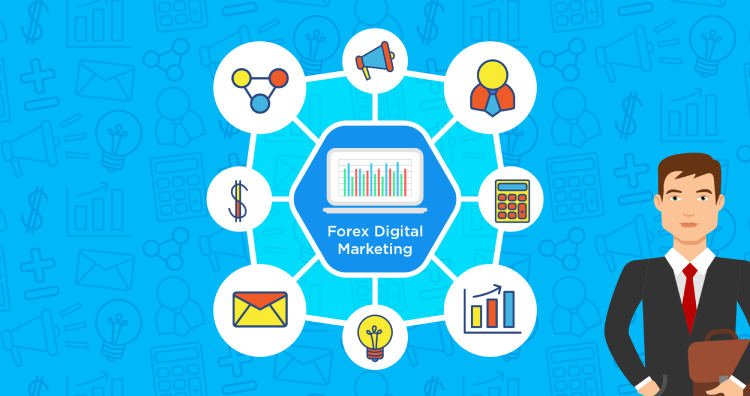 'The world is turning Digital and so are the marketing techniques'
The current market scenario portrays that the world is turning digital in all aspects. Starting from buying clothes and groceries to looking for jobs and life partners, Digitalization is the trend. For any company to run the business smoothly, digital marketing can be the key.
Digital Marketing is basically a marketing technique where the product or service is marketed using digital technologies like internet, mobile, online advertising or any other digital platform. There are various methods of digital marketing such as Search Engine Optimization (SEO), Search Engine Marketing (SEM), Content Marketing, Social Media Marketing, Pay-per-click (PPC), Online Reputation Management (ORM) and so on.
The Forex Market is evolving. Many traders have already entered or are planning to enter into brokerage. This leads to more advancement of the Forex Brokerage Companies in the near future. Just the way any other business can market its product or service using Digital Marketing techniques, Forex Brokers can do the same too.
The primary requirements for all Forex Brokers are to Register a company, get a license along with all other formalities. Also, it is necessary to focus on developing a website that is interactive and attractive. This website can play a major role. The Forex Brokers can use the digital marketing techniques which increases traffic on their website which ultimately leads to more sales.
Let's have a look in detail on certain Forex Digital Marketing Techniques:
1. Forex SEO
SEO is a strategic process that helps in improving a website's visibility in the search engines like Google, Yahoo and Bing. It would help connect to the right/potential customers who are in search of service that you provide.
All Forex Brokers provide similar services. Mostly providing MT4 as a platform and the trader's room service which is similar. Now, it becomes necessary to take steps that can help to gain a competitive advantage over the competitors.
Forex SEO can bring the right clients on the basis of the process that is followed. It goes like:
Keyword search
On-page optimization
Off-page optimization
Analyzing the competitors
Re-optimization
Want to know how SEO is useful for your Forex business? Let's take an example, When any client enters 'Forex Brokers', due to SEO the name of the website comes in top searches. Thereby increasing organic traffic on the website and providing more clients and ultimately increased sales.
Also Read: How To Choose The Right SEO Firm For Your Forex Business?
2. Forex PPC
PPC is a marketing tool and an advertising platform that requires a lot of analysis and research. As a result of which, there can be heavy traffic on the site leading to improvement in overall performance.
It can be an advantage for the Forex Brokers due to the following:
Selection of appropriate keywords
Ad text creation
Optimizing the landing pages
Bid management
More and more visitors to the website will be there with the help of Pay-per-click.
3. Forex Reputation Management (Forex ORM)
The main focus of ORM is Brand Creation. More focus on the online reputation of a company is what ORM does. It can completely make or break the image/brand of any company.
Sometimes, the Forex Brokers may not be able to deal with all online customers in a systematic way. ORM takes care of the same. It consists of:
Improvised SERP results
Promoting Positive image
Enhance customer interaction
Turn customer decisions
Strong ORM leads to a better brand image of the Forex Broker Company.
Forex Digital Marketing is gaining importance with the passage of time. More and more Forex Broker companies are opting for the digital marketing techniques in order to increase their online visibility and to gain more customers.
Get Started with Pheasantech
Recent Post




Category
Follow