Most used Trading Platforms: A comprehensive guide for Forex Brokers

Category :
Forex Education

By:
Calvin Morris

09-08-2023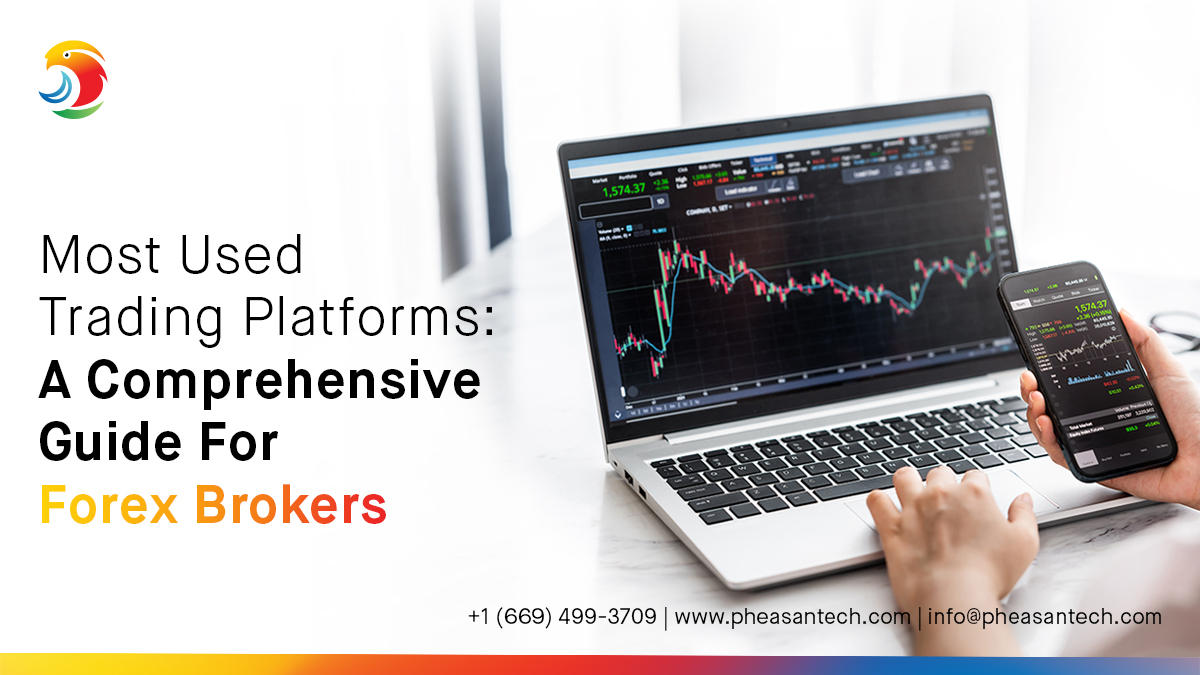 Trading in the lucrative Forex Market is one of the most fascinating and favored ways of investment. The requirement of various trading platforms has emerged because of the enormous amount that is being invested every day in the Forex market. A number of traders from around the world would try their fate in this pitcher full of opportunities. The trading platforms they use must make the trading experience user-friendly and profit prone.
The Forex Trading market is quite fast and unpredictable where equations change every minute. It is crucial for traders to have the right set of tools or platforms in order to make the right decisions and gain success. The choice of the most appropriate trading platform is the stepping stone, to begin with trading. As there are an enormous number of options available, selecting the right one would be critical. To make it easier for you to choose, in this blog, we will explore some of the widely used trading platforms.
Before we delve into various trading platforms, let us first understand the points to consider while selecting a trading platform that is most suitable for your organization.
1. Your style of trading can be a deciding factor:
Make sure the trading platform you choose matches your trading style. For instance, if you are a traders who would like to make quick decisions, you are more likely to be a scalper and you will need a platform that executes at a faster pace. Similarly, if you are the one who holds the trades for a longer period, you need more advanced trading tools like charting capabilities.
2. How friendly is the platform with the users:
The traders should choose a platform that is easy to use and navigate. According to the trader's preferences, the platform should be capable of customizing the settings. In order to avoid complexity and confusion, the trading platform should be as user-friendly as possible.
3. Is the platform secured?:
Security is a major concern for any trading platform. Make sure the platform you select is in compliance with a reputed authority and follows the rules and regulations that are necessary for a secured operation of funds and personal data.
4. Trading costs can affect your profitability:
Based on the spreads, commissions, and swap rates, various platforms have various trading costs. In order to generate more profitability, you need to take the costs into consideration while making the decision.
5. A platform that offers various Asset classes:
Apart from forex, if your requirement is trading in other assets as well, then you need a platform that offers various asset class options.
Let us briefly go through the Trading platforms available in the market:
MT4
Needless to say that the MT4 from Metaquotes is one of the most popular forex trading platforms. Its user-friendliness, customizable charts, and various trading tools make it a trader's favorite. It is available on the desktop as well as the mobile version. Its expert advisors support automated trading where traders can execute their strategies even when they are away from the screen.
MT5
As the name suggests, MT5 is an upgraded version of MT4 with additional features and assets. Here, apart from Forex, the trader can access other markets such as stocks, commodities, and cryptocurrencies. If you are looking for further in-depth analysis and comprehensive trading opportunities, the advanced technical indicators of MT5 can be a popular choice.
Vertex
Similar to Metaquotes, Vertex Trading platform too is a user-friendly and comprehensive platform dedicated to forex traders. Along with advanced charting tools and intuitive interface, it has the capability to highlight real-time market data. With enhanced trading efficiency and decision-making capabilities, Vertex has proved to be suitable for both beginner and experienced traders.
Sirix
Among the Forex and CFD traders, Sirix is quite a popular and innovative platform. Like the other trading platforms, Sirix too facilitates the trader with a user-friendly interface, Social trading features, and advanced charting tools. To make the user experience better, it allows copy strategies of experienced traders. If you are seeking collaborative trading experience, Sirix can be the right choice whether you are a beginner or a seasoned player in the market.
Based on your choice of trading platform, you can make your forex trading experience inspiring or discouraging. With enormous trading platforms with infinite features, it becomes difficult for a trader to choose the best suitable one. However, after a comprehensive study of the widely used platforms, one can make wise decisions.
We would like to emphasize that not only the trading platform measures the success of a trader but also the pursuance, trading skills, and strategies are the factors that contribute to a trader's career. With a combination of technology and wisdom, a trader can achieve the financial targets in this complex world of Forex Trading.
You can drop your queries related to trading platforms and their integration with your Forex CRM at PheasanTech and Click Here to connect with us directly.
Get Started with Pheasantech
Recent Post




Category
Follow