Step-by-Step Guide to Starting a Forex Brokerage

Category :
Forex Brokerage

By:
Calvin Morris

26-04-2023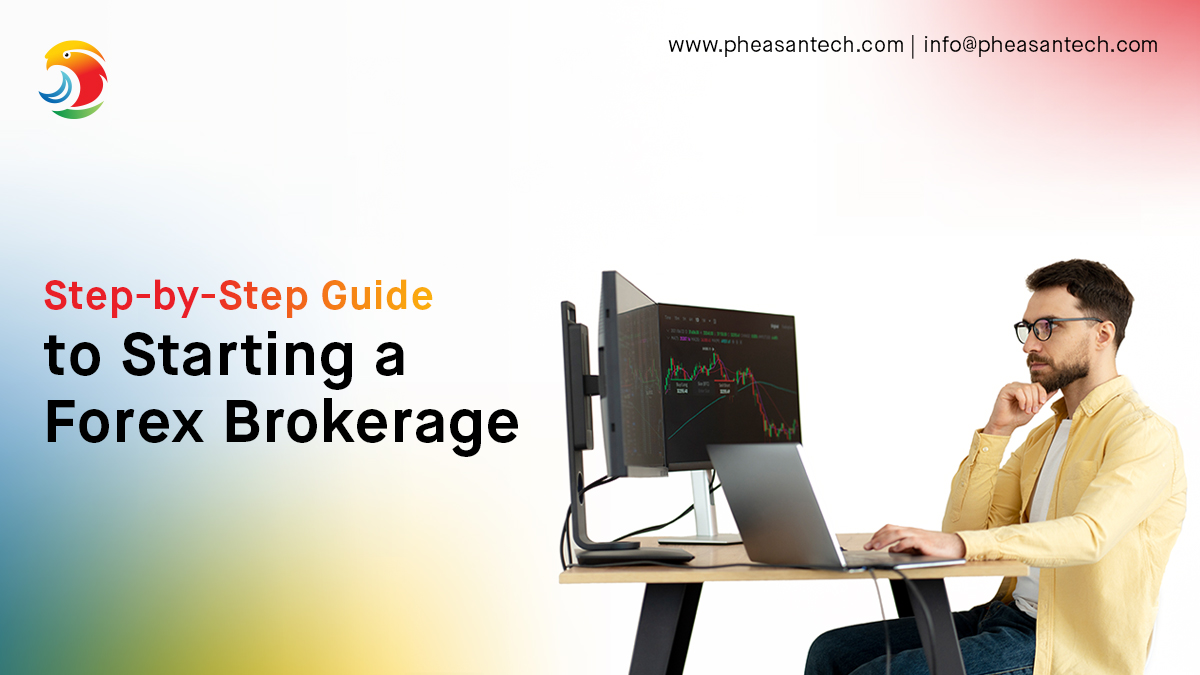 Starting your own forex brokerage business sounds very interesting and exciting when you look at it from afar, but as you get closer, you find it needs a lot of homework and research on how to gather the pieces and build this maze. You need a full-proof plan that includes all the important steps, from registering a brokerage firm to selecting the trading platforms and other software that you will need to connect with different providers for liquidity, payment solutions, etc. Also, you need to decide whether to start the firm from scratch or use a ready-made white label solution from an admin owner.
Here, we would like to throw some light on how you can launch your own forex brokerage and be able to stand in this competitive battle called the forex market with all the weapons required in the industry. Our step-by-step guide would help you take a pause and prevent possible pitfalls when you do it on your own.
When you start from scratch:
1. Decide the jurisdiction for your company's registration.
First and foremost, you have to think about your target region. Just see where you are getting more customers and decide where to register your brokerage. As the rules and regulations vary from country to country, having clarity about the region is very important. There are plenty of jurisdictions available across the globe, and the popular options are Mauritius, Cyprus, the Seychelles, Vanuatu, and many more. So keep your vision clear and go for a jurisdiction that is beneficial for you.
2. Keep enough funds for the capital and other expenses.
The requirement for capital and other funds would depend on the jurisdiction you choose. Apart from the license, there will be a high cost involved in setting up a complete forex brokerage. So it is better to keep sufficient funds ready to cover all your expenses, at least for the first year of business operations.
3. Find out about some leading liquidity providers and connect with them.
The important aspect of a forex brokerage is to provide liquidity. Therefore, partnering with a reputed liquidity provider is pivotal. Once you become a broker, you have to provide lucrative leverage to your clients. For this, you need to connect with a renowned forex liquidity provider who has direct access to all the Tier-1 forex liquidity venues.
4. Integrate various payment service providers with your platform.
To make your and your client's work easy in terms of deposits and withdrawals of funds, you need to join hands with some renowned payment service providers. With a set of trustworthy payment service providers, you increase your chances of competing effectively.
5. Get your brokerage operations managed with hi-tech software.
At this step, you need to set up your brokerage operations, like website design, integrating a well-known trading platform, and various other software like Forex CRM and a mobile app. Also, you need to keep a back office team, including sales, support, marketing, accounting, IT, and finance personnel, ready at a physical location.
6. Limited release of your brokerage before launching in real
Once you are ready with all the necessary components, before going live in real time, you should make sure your trading platform, payment processors, CRM, mobile app, website, and other technical factors work as per the requirements during testing. By spending enough time to test the functionality of your brokerage, you will find it easy to launch it for real. You also need an effective marketing strategy before going live.
When you decide to start using a white-label solution:
As you have seen above, starting a brokerage firm from scratch is a lengthy and time-consuming process. To avoid the complexities, a broker can prefer a white label solution, which, in simple terms, can be understood as buying a ready-made brokerage that is available for sale. Being tried and tested, the white label solution saves you time and issues dealing with the technical aspects during implementation and ongoing maintenance of the software.
Here, the important benefit is reduced cost and time, as you do not have to process the trading operations directly. Also, you have to pay quite a bit less for the license instead of getting it from scratch.
Forex Brokerage Turnkey Solution:
Now that you know the whole process of setting up your own brokerage, we at PheasanTech would like to give you an opportunity to start your own forex brokerage at a faster pace and with reduced costs, along with a touch of the best technologies. We are committed to providing our clients with an overall turnkey solution starting from company formation, obtaining a license, website and logo design, trading platform admin or white label, liquidity, payment gateways, CRM, social media marketing, and many other such services.
As a broker, you have to be ready to cater to your clients in constantly changing market conditions and comply with regulatory requirements at the same time. It is advisable to choose a reliable turnkey solution provider to ease your job.
To know more about how we can help you in your journey of becoming a forex broker, click here: www.pheasantech.com or WhatsApp

Tag:
forex crm provider
Get Started with Pheasantech
Recent Post



Category
Follow