How CRM is going to change the forex brokerage business?
Category :
Forex CRM
By:
Calvin Morris
30-04-2019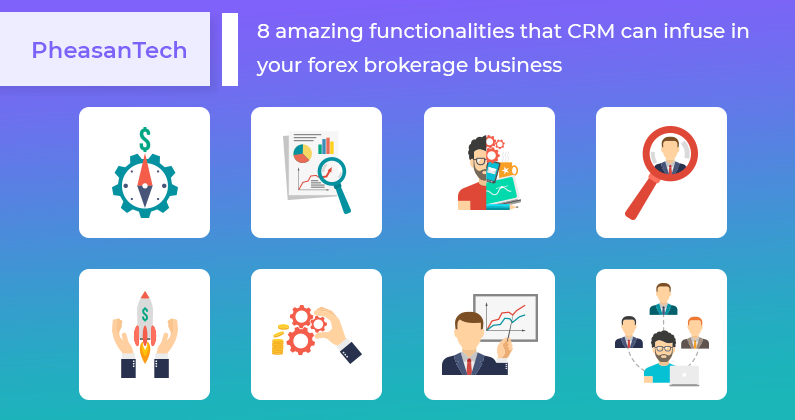 It's about trading! Forex trading is the new darling of modern economy. It is booming with possibilities, and it is growing really fast. People are interested in forex trading and they are looking for avenues. With the software and internet, forex trading has become so much accessible. Thanks to the evolution of the forex CRM, now people can easily get connected to a forex broker and earn well.
Forex CRM is going to change not only the way people do forex trading but the entire forex brokerage industry too. There is a need for good forex brokers to meet the immensely growing demand for forex trading platforms. If you think you need to create one, this is the right time.
1. Lead Management
CRM allows you to create customized settings for receiving and forwarding leads, communication, closing the lead, and overall lead management. Now your team can communicate with the Lead from the trader's room itself.
2. Online Registrations
CRM allows a trader to create an account with your forex brokerage platform, it also allows the team to review the application and take appropriate action. Trader registrations are made so much simpler by the forex CRM.
3. Multiple Accounts
Multiple Account Management (MAM) is possible from a single place, through CRM. You can set your own parameters and manage the trading through multiple accounts, with excellent control. If you think you need your own forex trading platform with an awesome CRM, contact PheasanTech on info@pheasantech.com or just CLICK HERE.
4. MT4/ MT5 Integration
MT4 is a trading platform which is created for forex traders and MT5 is a trading platform allows the traders access to forex, contract for differences (CFDs) and futures markets. You can offer them on your trading platform easily, with CRM.
5. Introducing Broker (IB)
The forex CRM helps your team do IB registrations and makes the process really faster. You can allow IBs to communicate directly with the client and coordinate with your team through CRM, bring in more business.
6. Fund Management
Transfer of funds from MT4 & MT5 can be easily done with forex CRM. Your team can also manage the withdrawal requests, wire transfers, currency conversion deposits and payment history through CRM too.
7. Updates & Notifications
There are so many things that your CRM will take care of, allowing your team to work on other important things. The traders will get real-time updates about their account activities and your team will instantly get the trader's requests.
8. Support Services
Whenever your trader raises an issue through CRM, your team can resolve it in real time. In fact, this is the most important aspect and it makes your trading platform different from others. A trader's room where traders have nothing to worry about.
Forex trading industry is growing really fast. You need to keep up the pace if you really want to make the best out of it. Forex trading CRM is a Customer Relationship Management system that will make trading easier for your clients and your team as well. If you need an offshore partner for creating your own forex trading platform, contact PheasanTech. We are one of the most efficient and cost-effective FOREX turnkey service providers in the industry. CLICK HERE to get in touch.
Get Started with Pheasantech
Recent Post




Category
Follow