How Forex Web Design Can Make Or Break Your Forex SEO?
Category :
Forex Website
By:
Calvin Morris
17-10-2018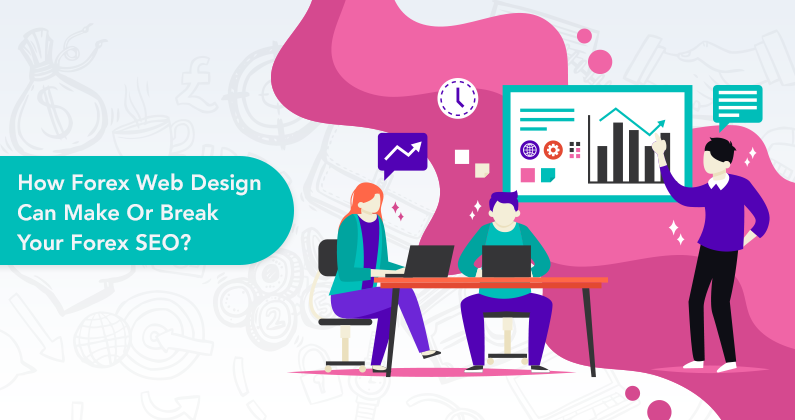 If you want to attract more customers towards your forex website, Forex SEO can help you to increase your profit & sales. Regardless of the number of people that show up on your forex website, none of them will stay with your brand unless you have a fluid forex website design.
While having SEO keywords incorporated into your website is important, so is the design of your forex website. Even if you have good skills in keyword research, it is important that you amp up your practices for proper website design implementation.
Let's understand how some of the elements on your forex website design which can be annoying for your visitors:
1. Annoying Pop-ups
In general, pop-ups are useful for brand promotion and product marketing, but too many of the same can be painful for your audience when all they have to do is to close the annoying pop-ups instead of going through your forex website. Use them at regularized intervals in minimal numbers. Refrain from startling your audience with pop-ups as soon as they enter the website as it can deter them from browsing your forex website.
2. Improper Text Formatting
If your website carries fonts that are too small or maybe too difficult to decode from the way they have been decorated, your audience won't stick around for long. With readability as an issue, you cannot expect your audience to invest their time in your website. So make sure you opt for a proper font for your forex website which acts as a delight for your audience.
Also Read: Reasons Why You Should Outsource Forex Web Design Service
3. Annoying Sounds
No one wants to hear a loud boom or annoying track as soon as they open a forex website or for that matter any website. So refrain from enabling the autoplay option for any sound that you have added to the clip on your website. Make sure that it is muted so that the audience can themselves choose to un-mute the same if they are interested to know more about the video or audio clip.
4. Slow Pages with Large Sized Images or Videos
Not every visitor you want for your forex website shall flaunt an internet service provider with top-notch speed. This is why it is important that you stick to high-quality videos but with sizes that are dimmed down to amp up the loading speed of your web page when someone visits your website. Website loading speed is one of the ranking factors in SEO. So, it's better if your website is fully optimized for quick loading. You can opt to use the online tools that can help you to check the page speed on a regular basis. Some of such popular tools are Google Page Speed Insights, GTmetrix, Pingdom, etc.
5. Impressive Layout
A clean and well-aligned layout is something that will bring you a great user base. This will also reduce the overall bounce rate when everything that what your audience wants is visible and accessible properly by them. Make sure to implement easy navigation that will help you to attract better traffic without having your audience get lost in the maze of your website design.
Get Started with Pheasantech
Recent Post




Category
Follow