How Technology and Automation Benefits to Improve Lead Generation and Conversion for A Forex Broker?

Category :
Forex Brokerage

By:
Calvin Morris

04-03-2021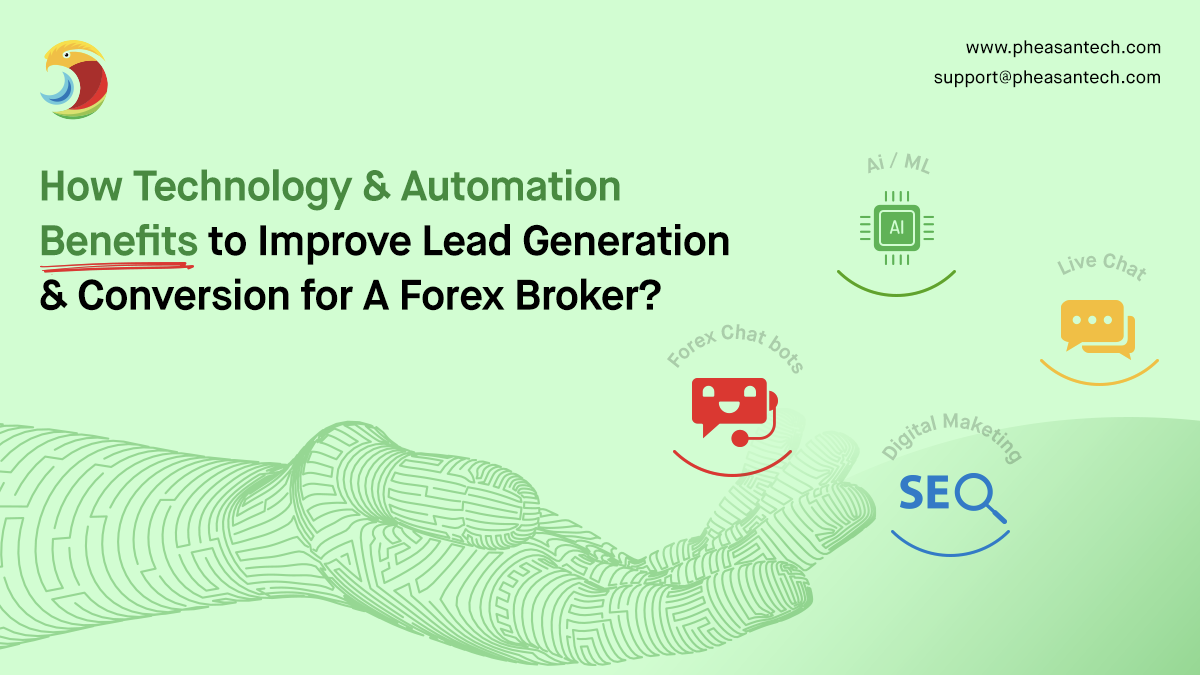 Foreign Exchange is a global and 24 hours working market not by choice but by necessity. In this globally competitive market, surviving and win more clients is becoming a big task for a Broker. The challenge here is to attract prospects and convert them into someone who has an interest in your products and services. We call this process as Lead Generation and Conversion in short. To get the better ability to produce better leads and convert them into potential clients without wasting much time, Automation and Technology must be used wisely.
We have seen over the last few years, automation and technology have evolved in the Forex Broker business to market more effectively while saving time simultaneously. Today we will discuss some of the latest technology and Automation tools that can be widely used in Forex Brokerage business to improve lead generation and conversion compared to traditional methods.
Website – Contact Us Form
Apart from increasing brand awareness and providing information about your services, your website's main function is to generate new leads and opportunities for your company, right? Now, this is where the lead generation forms become extremely important. The form on your Forex Website should be fully functional and optimized so that it can generate maximum number of qualified leads. Also, your form should collect enough information so that you can make decisions about which one has the most potential. The Forex Website Contact Us form should be well designed and should have certain mandatory and certain optional fields based on your requirement.
Digital Marketing
In this digital era, instead of using the traditional methods of advertising your products in newspapers or launching a flyer, or knocking door to door are like gone days. Because of digital marketing, you can focus on your target clients and research on their interests accordingly. Your ultimate goal is generating leads but with digital marketing, you can achieve this by reverse engineering methods.
Posting content on your website or social media is one of the most successful ways of lead generation. You can demonstrate your expertise in Forex Market on social media and gain attention of potential leads.
You can use SEO (Search Engine Optimization) to promote your products. Organic Search is the most precious lead generation strategy. The more content you post, the highest are your chances to be on the top of SEO results.
Social Media like Facebook, Instagram, LinkedIn are some of the ways of Lead Generation using digital marketing
CRM
One of the main pre-requisites for any successful business is a strong Customer Relationship Management. To boost the lead generation you need a well-crafted CRM software. It will improve the client retention rates as well. With the help of Forex CRM, you can keep constant contact with your prospect. You can send automated welcome emails or you can run campaigns through the email campaign module. The number of your customers and your sales progress depends on your efforts of lead generation. After generating leads in your CRM, you can even get advantages of the IB Module to convert the leads into more clients. All you need is to save time and money and have an expert CRM for your Forex Firm.
Landing Page
Forex Landing Page will act as a link to your website. You can invite people from various external platforms and redirect them to a suitable page. In a way, the lead generation landing page can be used to collect personal information and establish contact points to create as many leads as you can. It will help to maximize the communication between your visitors and your page and you can maintain contact. Ultimately it can improve your ranking on Search Engines.
RPA
Talking about the automation and technology at par, RPA (Robotic Process Automation and Development) is the ultimate development for Forex Broking business. This will save your team's time and improve the speed of completing tasks. There are minute chances of errors and tasks will be completed with precision. This will be an advantage in terms of lead generation and keeping in touch with the prospective client.
Giving you the capacity to take your business to next level, Forex chat bot manages sales and conversations with potential and existing clients 24x7x365. This improves your chances of sales with promptness. As the chat bot talks in the language of your client's preference, making them comfortable, there are more chances of success for the broker. Chat bots work on social media as well so people can communicate from the platform of their choice. This will improve the ratio of conversion.
Live Chat
Having a live chat with the broker's team, will help the client clear all his doubts quickly and effectively. This will generate more leads and there are chances to convert them into client with the Forex broker's team's proficiency in the subject.
AI/ML
Infuse the power of innovation and the latest technology in your forex brokerage business with Artificial Intelligence and Machine Learning. Let the computer do the work for you as an independent brain. This will help you analyze the data more effectively than the human and there will be more chances of success in terms of conversion.
Thus, by now you must have understood how Automation and Technology go hand in hand and benefit to a Forex Broker in terms of Lead Generation and Conversion. If you are looking for the right Lead Generation strategies using the best technology and automation for your Forex Brokerage Business, then you are at the right destination. Pheasantech can help you leverage the technology at its best. Contact us at www.pheasantech.com or skype at Monica S. pheasantech
Get Started with Pheasantech
Recent Post




Category
Follow