What is the impact of website on forex brokerage business?
Category :
Forex Website
By:
Calvin Morris
19-09-2019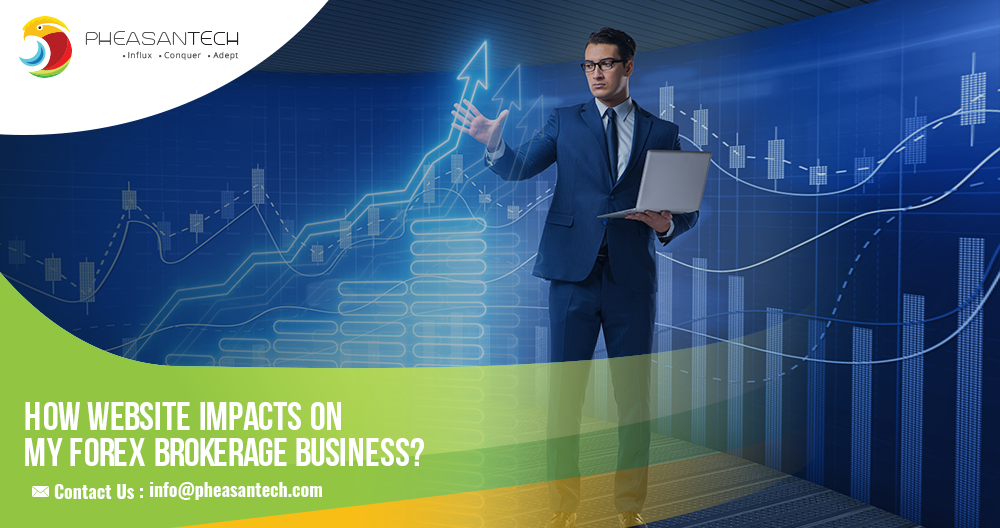 It is interesting to see that if you google 'What is a website', it gives you 25,27,00,00,000 results! These many answers show at least one thing – Websites are important. So, brokerage business or any other business, having a website is like having a home in the digital world. And in the era of technology, forex broking has become so accessible through websites. So, before we discuss about the good impact it makes on your forex brokerage business, we should discuss how bad impact it would make if you don't have a website?
If you ever wonder how many forex traders are in the world? The answer is 9.6 million. And none of them will be able to do trading with you if you don't have a forex website.
People are trading $5 Trillion every day, non-stop, but you can't be a part of any of it because you are yet to create a forex broking website.
There is a ranking 'top 100 forex brokers in the world' but you can't be one of them because you don't have a website.
Impact of a forex website
1. Getting found on the internet
Forex traders need forex brokers and forex brokers need forex traders; this is a mutually beneficial relationship. A website is the address where the traders can walk in anytime. Whenever they are searching for a forex broker, you want to be found, and a website helps you do that. It helps you be there when they are looking for you.
2. Managing outreach campaigns
There are umpteen ways available to find new forex traders and connect with them through digital marketing. A website plays an important role in the entire process and it creates a huge impact on your business revenue, using social media ads, website ads, search engine ads, Quora ads and so many other ways.
3. Integrating MT4 trading platform
A forex website is not just an informative web page, it is a full-fledged trading platform where people can trade forex from around the world. MT4 is the best trading platform and it offers the best forex trading experience online. MT4 integration allows you to offer seamless forex broking services and leaves a great impact on the traders' minds.
4. Gathering and analysing data
Data can give you an insight into the trends of forex trading industry. It can help you define and evolve your business strategy as a forex broker. A website equipped with a forex CRM can help you obtain and analyse data effectively. A website can make a huge impact on the future of your forex broking business, through proper use of the data.
5. Competing in the forex industry
There are thousands of new forex traders added every day and so many brokers are trying to grab their attention. Yes, there is a steep competition. And it depends on so many factors such as visuals, responsiveness, content, UX, features, functionalities and overall ease of use of the website. This is what the traders judge before selecting a website to do forex trading. It makes the biggest impact on forex broking business.
Just having a website will not allow you to be a forex broker, you need to obtain license and fulfil all the regulatory requirements nevertheless. But creating a forex trading platform and forex website is the first step in the process. A website has so many direct and indirect impacts on a forex broking business but most important is the impact it leaves on the minds of the traders. A good website is half battle won.
Pheasantech can help you in establishing your new forex broking business – starting from the company formation to licensing and from website creation to digital marketing. With Pheasantech you can create your own fore broking platform at very reasonable costs. You can contact Pheasantech or you can also make a Skype Call to Calvin. They say 'Fortune favours the bold' and it is so true for the forex trading industry. Platforms like MT4 have changed the entire landscape of forex broking. And this is the time to foray into. Pheasantech will offer you all the support that you need. Go forth!
Get Started with Pheasantech
Recent Post




Category
Follow