Impact of an effective website on the Growth of Your Forex Brokerage Business

Category :
Forex Brokerage

By:
Calvin Morris

11-05-2023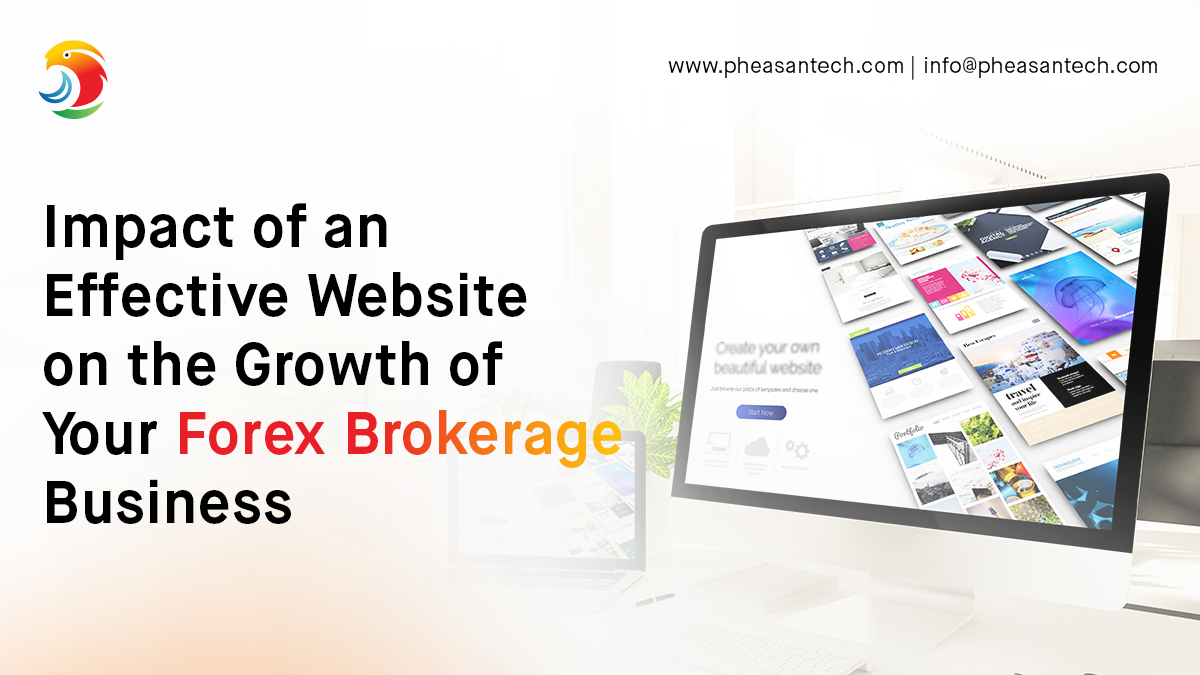 All electronic devices, be they a computer, a laptop, a mobile phone, a smartwatch, or any other, have one thing in common that connects each of them from any corner of the world, and that is the internet. In this modern age of technology, having a physical identity is not enough. You need a strong presence digitally as well. For a single identity, an account on any social media platform would be sufficient, but for a business or an organization, it is not adequate. Earlier, a business card or a colorful logo was used to serve the purpose of a forex broker, but nowadays these would sound very outdated. To create a strong presence in the digital world, one must have a comprehensive website.
Having an innovatively crafted website can impact the growth of your forex brokerage business. Also, you need a website as a broker to allow traders to associate with your brokerage firm. Without a website, you cannot be known in the digital world, where almost all the forex brokers are these days. Let us see some of the key aspects to understand how the website impacts the growth of your business.
Easier marketing and attracting clients with a Forex website:
Traders use search engines to find the best-suited broker for themselves, and if your website is on the list, they will definitely take an interest and try to find the answers to their queries. You can grab the chance and showcase the products, services, and solutions you can provide to the trader. If you do not have a website, you may miss out on getting the right leads at the right time.
Create a strong impression at first sight:
An innovative and interesting website catches the attention of visitors and creates an impression that can't be forgotten for a longer period. To be in the good books of new clients, you need a website that's not just a digital representation of your company profile; there have to be added elements that appeal to the clients and keep their interest in your site. Your website should be distinct and, at the same time, user-friendly. The goal is to enhance the visitors' experience to get more business.
Hold the top position on search engines:
It is very obvious that people shortlist the brokers who are on the first page of the search results. Hardly anyone is going to scroll through the second or third page. If your content is captivating and the search engine optimization (SEO) is done perfectly, you can succeed in holding the top positions in search engine queries. We emphasize being in the top positions because this way, you can be in the good books of the traders while searching for a good broker.
Sales CRM integration is equally important:
Once you have a catchy website, you will see a lot of visitors, and many of them will be serious leads. With a large number of interested customers, it would be difficult to manage the data in a spreadsheet. You would require a sales CRM that is integrated with your website so that you can collect and store the incoming data. A website must include some forms that a client can fill out and register for further information. As Forex is a business with specific requirements, you would need a specially crafted CRM for brokers. Cloud Forex CRM, custom-carved by PheasanTech, would be helpful here.
A Forex Website with knowledge base:
The Forex business is very tricky and complex, so clients may need clarification in understanding the concepts. You can educate the clients with your knowledge and experience of the market. Your website becomes a robust platform for spreading knowledge through various webinars, educational videos, blogs, etc.
Represent your brand globally:
A Forex Website would be your advantage to present your identity throughout the world. Beyond geographical boundaries, you can showcase your services and solutions to anyone sitting in any corner of the world. Also by having a digital presence worldwide a number of potential clients can avail of your services from their homes.
Strengthen customer support:
The most important aspect of your Forex website would be you would be able to manage the concerns and queries of the clients by uploading FAQs, Chatbots, live chats, etc. The client's common queries could be easily solved by viewing the FAQ section. Further, you can integrate chatbots and live chats to assist clients more efficiently. Use of the contact us forms and email options would give them the privilege to converse with you directly. After launching a website equipped with a strong support portal, you would find it a boon in terms of getting more business.
A Forex Website must be comprehensive containing everything that a client is looking for. Be it contact us forms or FAQs, Sales CRM integration or live chats, Educational videos, or holding a top position on SEO, if your website excels in all these fields, you are definitely on the edge of growing your brokerage business like anything.
To know more about how and what a Forex Brokerage Website is, contact us at www.pheasantech.com or Skype us at https://join.skype.com/invite/vMmITUzzhe05
Get Started with Pheasantech
Recent Post




Category
Follow