PheasanTech Launches an Extensive RMS Solution for Forex Brokers

Category :
RMS

By:
Calvin Morris

26-07-2022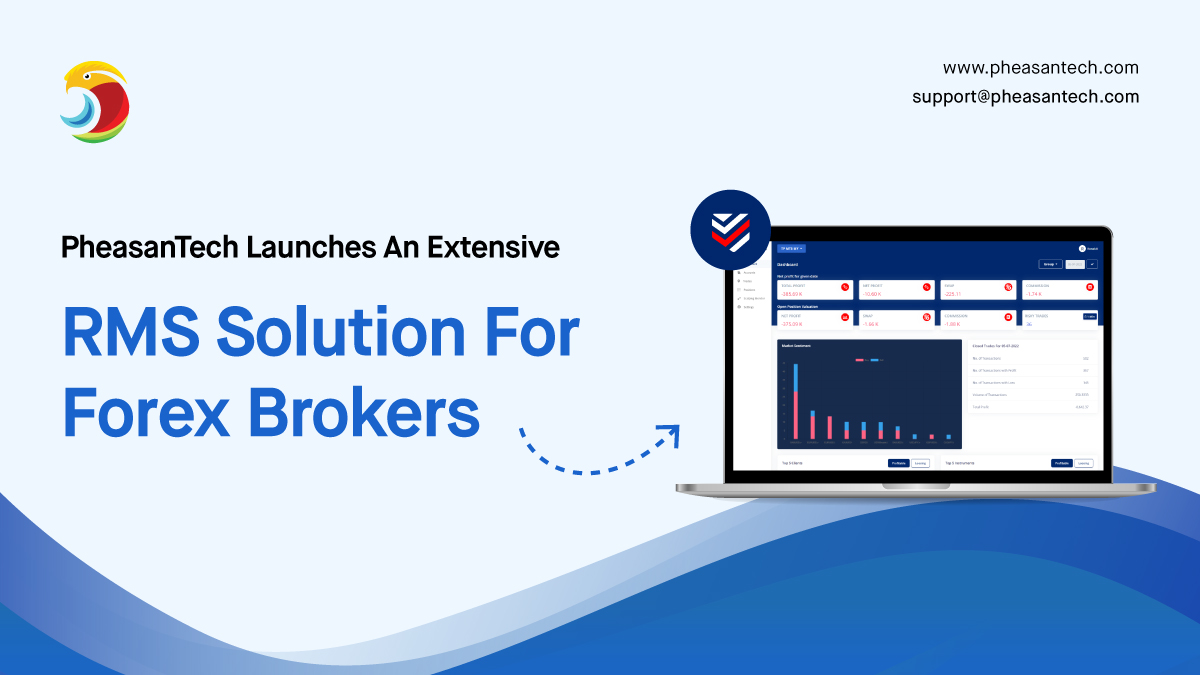 We at PheasanTech - are pleased to launch a new, totally unique, online Risk Management System FXRMS that will assist Forex Brokers with the analysis and control of many risks related to trading and business.
FXRMS is a platform for Forex Brokers to analyze and manage various trading risks from a single location. It is capable of providing various charts and reports that are easy to view and understand. By synchronizing the data from your trading platform be it MT4, MT5 or Vertex, FXRMS creates various scenarios which helps brokers in thorough data analysis and decision making.
Let us see what are the modules covered in FXRMS:
Uniquely designed Dashboard:
You can view performance of any group or individual using any of your platform, and analyze the data of any date from the Dashboard. It gives you a quick view of Net profit for a given date and Open position valuation including net profit, total profit, swap, commission and risky trades if any. Also one can check market sentiments, top 5 clients and instruments and top 5 winning or losing trades. FXRMS dashboard is surely going to make Broker's life way easier.
Accounts:
Get an insight of any of the accounts of the selected group and check the leverage, balance and other statistics in the form of a graph.
Trades:
Here all the closed trades are displayed for a particular group and selected date. Brokers can filter the groups, select date, remove or add any column as per the requirement.
Positions:
Brokers can view all the open positions of a particular account from a selected group. Here too the groups can be filtered, select date and remove or add any columns.
Scalping Monitor:
This is a very important module for Brokers. By scalping we mean buying or selling currency pairs with only a brief holding time in an attempt to make a series of quick profits. You can have a quick view of the trades which are made by scalping method based on the selected group and account.
Settings:
Here, the broker can invite other team members and can configure the groups and assign him role as per the requirement. The user can edit the other user and can add or remove the assigned groups, also the user can toggle the roles as per the requirement. Which are under him, or who have opened the accounts with the invite link.
All and all, PheasanTech's FXRMS is a full-fledged Risk Management System which is customized for the new edge Forex Brokers. Having this system on board, the broker will be able to measure the market risk levels and improve his company's performance by analyzing the large amount of data in real time. In the long run the Broker can avoid the potential losses occurring due to various market conditions.
For further information contact us at www.pheasantech.com or skype us at https://join.skype.com/invite/vMmITUzzhe05
Get Started with Pheasantech
Recent Post




Category
Follow