Reach out to global traders with a multilingual Forex Website

Category :
Forex Website

By:
Calvin Morris

04-08-2023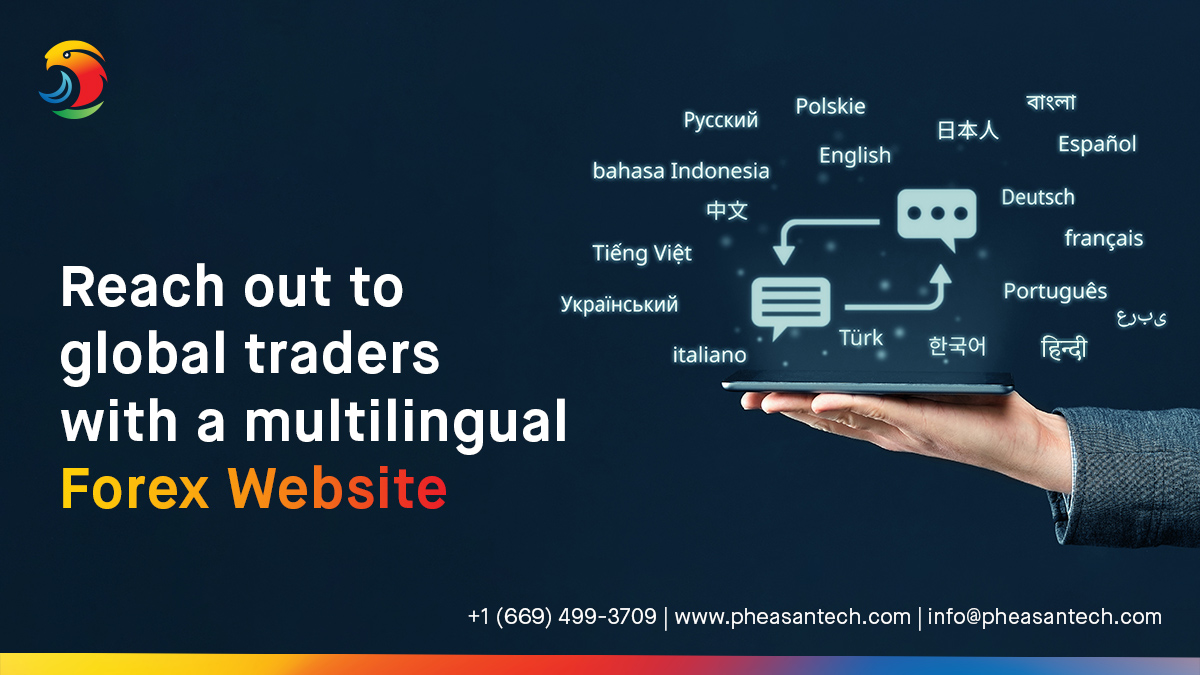 In this modern world where various languages and cultures are interconnected, the forex brokerage venture is expected to attract traders from diverse backgrounds. Forex market is a global pool of potential clients and the broker has to dive in and expand his brokerage's reach. In order to achieve the goal of connecting with investors and traders from around the world, multilingual website development has proven to be a crucial strategy. The Forex website should be like a welcoming environment for traders across the world. A multilingual forex website breaks language barriers and enables you to connect with and engage traders from all over the universe. In this blog, we will explore certain essential tips for developing a Forex website with multiple language options.
Thorough market research is the stepping stone:
Conducting a detailed market research activity and analyzing your target audience's regions and languages is extremely important before venturing into multilingual website development. Study the characteristics of your existing users and potential leads in the market to determine the most relevant languages for your client base. It is very important to understand the trader's habits and preferences based on regions in order to customize your website content effectively.
The Content you choose should be easy to understand:
Opt for strong and user-friendly content that harnesses multilingual capabilities. There are some content management system platforms available in the market that offer translation in preferred languages for conveniently managing and updating content in various languages. The broker has to select a reliable CMS in order to streamline the process of including new languages and maintaining a consistent website across the world.
Opt for professionals for translation:
Apart from having a robust content management system, a broker needs to invest in professional translation services so that the target of accurate and regionally appropriate translations can be achieved. Readymade translation tools available on the net could be exciting at first, but you will end up finding inaccurate translations that would create misunderstandings. In order to maintain the essence of your content and win the trust of the global client, one needs to rely on professional translators.
Apply localized SEO strategies to optimize your business:
A multilingual website requires multiple SEO strategies based on the regions and languages. A keyword search is required in each target language and region in order to increase the visibility of your website on local SEO. This way you can generate organic traffic on your site from various markets.
Language navigator and country flags:
Your website must contain an eminent language navigator that allows the visitor to select the language of their preference. For a quick review, various country flags representing the languages could be used. By implementing such a small but effective system, you can improve the user experience.
Multilingual customer support:
The multilingual website should be able to provide support to the traders in their preferred language. In order to improve the trust level and strengthen the broker's impression, customer support in various languages would be beneficial.
Enhance user experience with frequent trials and tests:
Once developed, you must test the functionality and usefulness of your multilingual website in depth. All the links, navigation, and forms should function without any discrepancies in various languages. Besides, you should take feedback from the users across the regions and by understanding the pain points enhance their experience accordingly.
Respect diverse cultures:
A multilingual website would bring responsibility to the broker for taking care of sensitive cultural differences. One should understand the fact that certain content would be acceptable in one culture whereas the same would be considered offensive in another. While creating the content, maintaining the decency of all the cultures and languages would attract more audience to your platform.
For a global Forex Broker, it is necessary to develop a website that supports multiple languages. With the above-mentioned tips, you can reach traders from various countries and cultures. Ultimately providing extensive services and support is what matters the most even with a multilingual approach.
At PheasanTech, we offer to shape and fashion your Forex website in multiple languages with professionally created content that suits your requirements. Just knock to know more about it.
Get Started with Pheasantech
Recent Post




Category
Follow