Forex Digital Marketing: Organic or Paid Marketing?

Category :
Forex Digital Marketing

By:
Calvin Morris

27-06-2023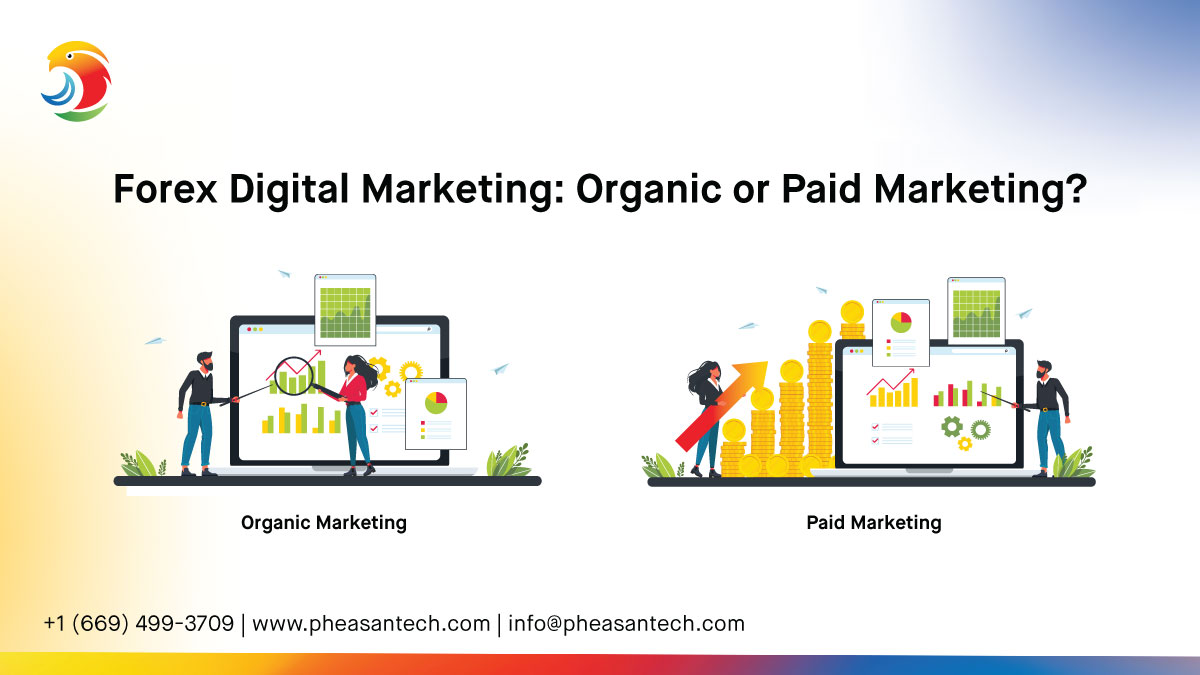 As both Search Engine Optimization (SEO) and Pay-per-click (PPC) advertising depend on the search engine results page (SERP), a Forex broker must make a firm decision about where to allocate their resources more effectively: SEO or PPC?
Every broker would like to appear as high as possible on the search engine results page. However, to achieve this, you need to understand the fundamentals of SEO and PPC and take several aspects into consideration.
Fundamentals of organic vs. paid marketing:
Organic marketing, which utilizes SEO, involves targeting specific keywords and designing content accordingly to maintain a high position in search lists. In this approach, you do not pay for your ranking on the SERP. On the other hand, PPC is a paid option where you pay a fixed amount each time someone clicks on your link. Here, your link competes with other available links and must meet certain criteria to appear at the top of the SERP list.
Paid marketing, the second option, can be highly beneficial for Forex brokers who want to target a potential audience. Despite being expensive, this option helps you reach a specific group of people and ensures guaranteed results. The average cost per click varies depending on the location and target audience. On the other hand, the SEO option requires extensive work in terms of gathering relevant data, observation, analysis, and creating unique content. Additionally, after creating the content, you need to optimize it to thrive in a competitive environment.
It is difficult to decide whether to invest more in SEO or PPC as a broker in order to maximize benefits. In this discussion, we will explore some factors that need to be considered:
Region:
Forex being a regulated market, Google has specific rules regarding who can advertise forex services and where these can be promoted. If your brokerage is not registered in one of the following regions, you are not eligible to market through PPC ads: Australia, the European Union, Hong Kong, Iceland, Japan, New Zealand, Norway, Russia, Singapore, South Africa, Switzerland, Taiwan, or the United States.
Suppose a broker is prohibited from posting ads due to location restrictions or the use of the 'Forex' keyword. In that case, they can still try placing ads on a few social media platforms and websites like BabyPips. However, to achieve a better ranking, it is essential to enhance your SEO performance.
Google's Featured Snippets:
Ranking at the top with a paid ad can be challenging to determine. Meeting Google's ad rank criteria is equally important, which depends on the quality and quantity of your ad and landing page. Google selects certain content to be displayed directly on the SERP to capture the searcher's attention. Brokers can create such content and have the opportunity to appear in the featured snippet, which appears below the ads and above all other search results. Discovering how Google selects featured snippets can be difficult as there is no official disclosure from Google. However, SEO can provide recommendations on optimizing your page for featured snippets. The key is to have content that can provide easy and understandable answers to the questions of interested individuals. Sustaining a high position on search engine rankings without paid marketing or featured snippet positions is challenging. Whether you choose paid marketing or utilize SEO, staying at the top of Google's list will always be a challenge, especially in Forex digital marketing.
Content related to Forex Brokerage:
As mentioned earlier, content plays a crucial role in your marketing strategy. Whether it's on your website or social media platforms, your content should effectively address the inquiries of potential customers. By providing comprehensive answers to common questions, you increase your chances of ranking higher on the SERP. Content can take various forms, such as Forex-related blogs, content marketing on social media platforms, or participation in trading forums as educational partners. The more content you publish on your site, the greater your chances of achieving a higher rank. However, if you opt for PPC advertising, extensive content is not necessary. Instead, focus on creating engaging landing pages with content that aligns with your ads.
Cost constraints:
The cost of paid marketing varies based on location and keywords. Generally, PPC tends to be more expensive than SEO for brokers. If you want to save money or reduce costs, it is advisable to invest in creating high-quality content. However, it is important to note that hiring a professional content creator and marketer can be as costly as investing in PPC. Therefore, you need to make a wise decision based on your budget and goals. If possible, it is preferable to create content on your own and invest less in external resources. PPC can help increase traffic and expedite lead conversion.
Time is the deciding factor in driving traffic to your website:
Even if you have invested a substantial amount in PPC, it is important to note that your website's ranking on the SERPs may only remain at the top for a limited period of time. Once the PPC campaign ends, you would need to start over with advertising efforts. On the other hand, by creating valuable content, you can generate more traffic through SEO. Although it may take months to achieve organic rankings at the top of SEO, in the long run, it will continue to attract visitors to your website, even long after its initial creation.
So, you have understood by now that SEO and PPC both have their own pros and cons. You can visit www.pheasantech.com to decide which strategy would work well for your brokerage. In case you would like to discuss with our team skype us at https://join.skype.com/invite/vMmITUzzhe05
Get Started with Pheasantech
Recent Post




Category
Follow