Pheasantech's Expertise: Redefining Excellence in Forex Brokerage

Category :
Forex Brokerage

By:
Calvin Morris

20-11-2023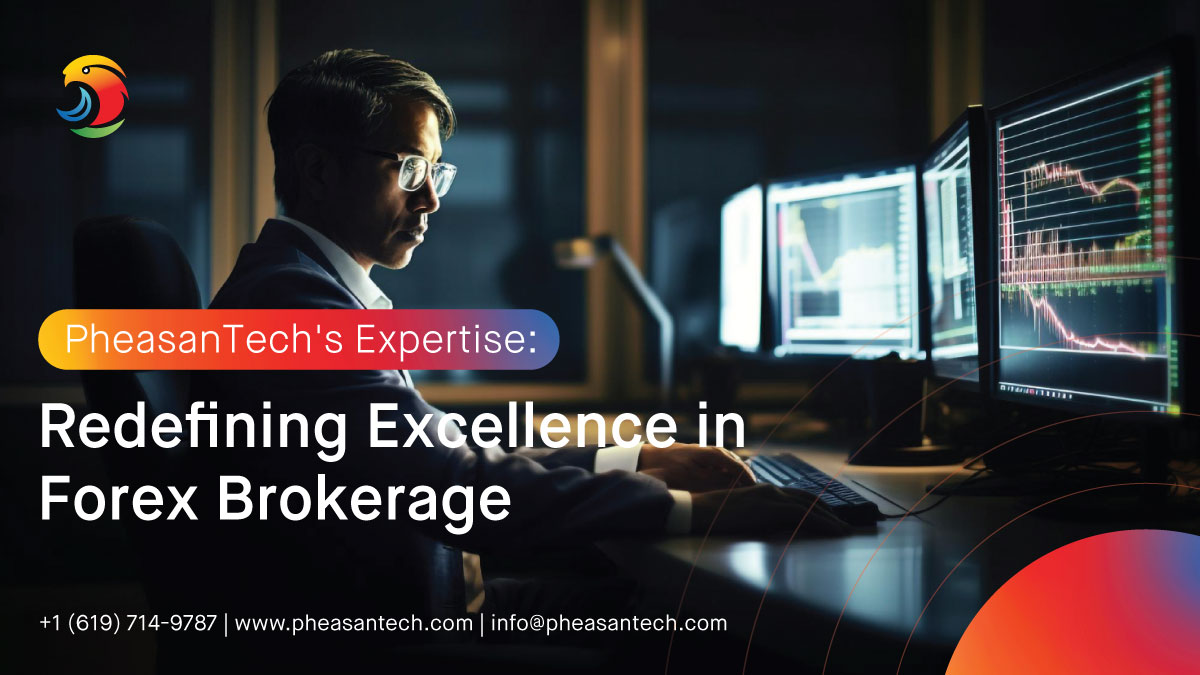 In the fast-paced world of Forex trading, excellence is the key to success. To thrive in this industry, brokers need a partner who understands the complexities of the Forex market and is dedicated to redefining the standards of brokerage services. Pheasantech, with its years of experience and unmatched expertise, is setting a new benchmark in Forex brokerage. In this blog, we will explore how Pheasantech's expertise is reshaping the landscape of Forex brokerage.
A Wealth of Experience
Pheasantech's journey in the Forex industry has been one of continuous learning and evolution. With years of experience under its belt, the company has acquired profound insights into the ever-changing world of Forex trading. This knowledge is not just a testament to its longevity but also a valuable resource that clients can tap into.
A Commitment to Innovation
In the dynamic realm of Forex brokerage, innovation is the driving force behind success. Pheasantech's commitment to staying at the forefront of industry trends and technology is unparalleled. The company consistently invests in research and development to ensure that its clients have access to cutting-edge tools and services.
Tailored Solutions for Every Need
One size does not fit all in Forex brokerage. Pheasantech recognizes this fact and has tailored its services to cater to the diverse requirements of clients. Whether it's a start-up broker seeking comprehensive solutions or an established brokerage looking to fine-tune their offerings, Pheasantech has a range of services to meet these needs.
Comprehensive Suite of Services: A One-Stop Solution
At Pheasantech, we offer a comprehensive suite of services to cater to every aspect of your Forex brokerage business. Our services include:
1. Compliance: Ensure your brokerage meets all regulatory requirements with our compliance solutions.
2. Logo Design: Create a unique brand identity with our professional logo design services.
3. Website Development: Establish a strong online presence with our expert website design and development.
4. Trading Platform Solutions: Access a range of trading platforms, including MT4, MT5, Sirix, and Vertex.
5. CRM & Trader's Room: Streamline your operations and enhance the trading experience for your clients.
6. Cabinet Mobile App: Enable clients to manage their accounts conveniently on mobile devices.
7. CRM Mobile App: Stay connected with your clients and manage your brokerage on the go.
8. Risk Management System: Protect your brokerage and enhance stability with our risk management tools.
9. Liquidity Solutions: Access liquidity for your trades and ensure efficient order execution.
10. Copy Trading and PAMM: Offer copy trading and PAMM solutions to attract more clients and increase trading volumes.
A Collaborative Approach
Pheasantech believes in forging lasting partnerships with its clients. The company collaborates closely with brokers to understand their unique needs and goals. This partnership-based approach ensures that Pheasantech's services are aligned with the client's vision, and the resulting solutions are custom-tailored for maximum efficiency and profitability.
A Secure and Transparent Environment
Security is paramount in Forex brokerage, and Pheasantech prioritizes the safeguarding of client data and assets. The company employs advanced security measures to protect client interests and maintain transparency throughout its operations.
Pheasantech's Vision
Pheasantech envisions a future where excellence in Forex brokerage is the norm. By consistently delivering top-tier services, the company seeks to redefine industry standards. Its vision is to empower brokers and traders with the tools, knowledge, and support they need to thrive in the competitive world of Forex trading.
Choose Excellence with Pheasantech
Pheasantech's expertise is not just about meeting the current needs of brokers; it's about shaping the future of Forex brokerage. The company's commitment to innovation, tailored solutions, comprehensive services, and collaborative partnerships makes it the ideal choice for brokers seeking excellence.
If you're ready to experience the future of Forex brokerage, consider partnering with Pheasantech. Join the ranks of successful brokers who have redefined excellence in Forex trading. Contact us via Skype or WhatsApp to discuss your success or explore more on our website.
Get Started with Pheasantech
Recent Post



Category
Follow