Importance of Responsive Web Design In 2018 for Your Forex Business
Category :
Forex Website
By:
Calvin Morris
26-04-2018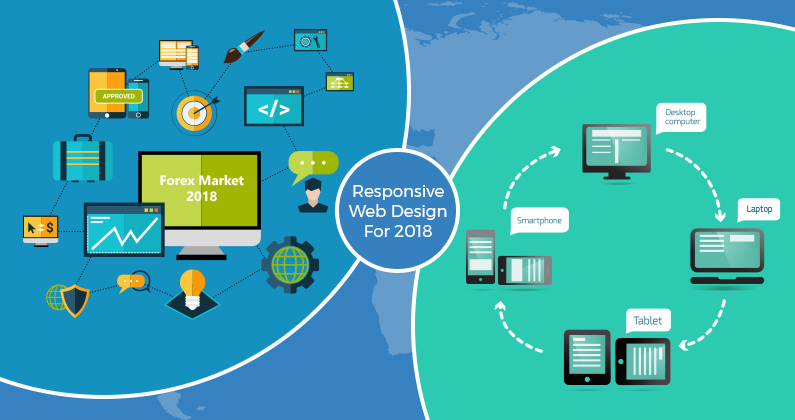 Responsive design has been considered as the biggest trending topic when it comes to a successful website design. This term might seem something extraordinary to non-technical people, but it is just another tool that can help with successful digital marketing. With responsive website design, Forex brokers can easily improve the way their website is seen and used by the traders.
First of All, What Is Responsive Design?
Let's make it easy for you. Responsive design is an element added to the website designing process that essentially helps the website to modify the content and other elements according to various screen sizes. This curbs the unnecessary effort given in by a visitor to read or go through the website like resizing, zooming, scrolling or panning. Let's take a look at the changing trends of responsive web design in the year 2018 for Forex Business.
Mobile Usage Has Increased
When you take a look at the cumulative data of past five years, mobile based browsing has seen rapid growth as compared to the laptop and desktop devices. The cost decrement in data plans with better network connectivity has increased the demand for a better forex web design that is optimized to be used in the mobile screens.
Increase Reach for Your Brand
With mobility introduced to website design in the recent years, it has become easy for a forex brand to cover a large fraction of the target audience. As you can access the internet from any corner of the world while working, traveling or catching a metro rail, you get a higher amount of exposure for your brand. People tend to spend a major fraction of their time scrolling through the feed and searching things while traveling in local transport facilities or when attending a boring lecture. Responsive web design allows these audiences to coordinate their requirements with your services.
Also Read: Top SEO Trends For 2018
Build Positive Brand Image
A perfectly built responsive web design for your forex business can help you to build a positive impact on your traders. If your client can easily access the site on any platform, it's your business that attains the related profit as the prospect is guaranteed to opt for your services as compared to the companies with non-responsive websites. Your traders will come back to you if you have a well-designed forex website with all that is required to attract a trader. This leads to high rate of conversion in the future for your forex business.
Higher Ranking
The forex websites that are optimized to work on any platform tend to load faster with better user-experience and ease of use. This tends to increase the inbound traffic to your website, and Google takes note of everything that you do to improve your forex business website. With a decreased bounce rate and increment in traffic, you can get better rankings in the search engine leading to more leads and higher profits for your forex business.
Responsive web design also helps with better social sharing options while increasing the growth of your brand in major social media platforms.
Get Started with Pheasantech
Recent Post




Category
Follow