5 Things You Should Know About Selecting A Forex Brokerage License

Category :
Forex Brokerage

By:
Calvin Morris

15-02-2023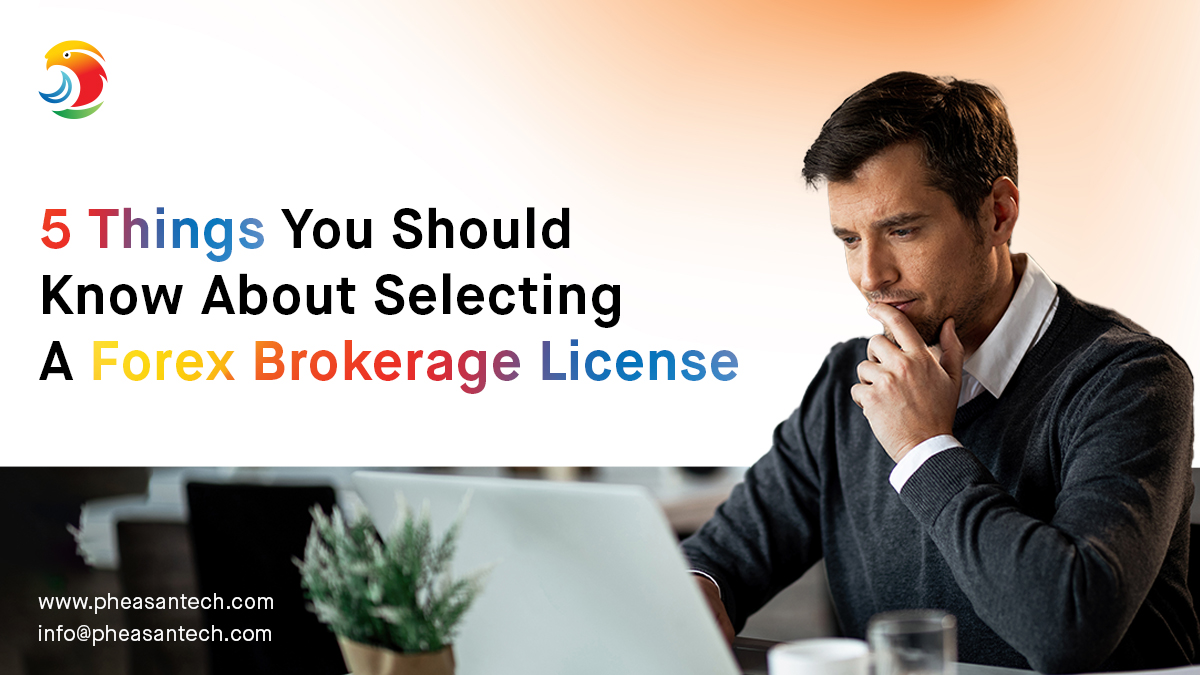 No matter how competitive the online retail Forex industry is getting day by day, there is always a large number of start-ups and investors who are up for starting a Forex Brokerage business.
Earlier, to begin with, your brokerage business required some expertise in the latest technology and fine knowledge of the market. And not to mention that a significant amount of free capital would be a must. But after the revolutionary progress on the technology front and the availability of vast opportunities, the requirements of obtaining a regulatory license have changed and now we require less time and less money.
So here we will discuss the most important points needed to consider before you select any jurisdiction for your Forex Brokerage Business.
1. Cost of OnBoarding:
There will be unforeseen costs to becoming a Forex Broker that you need to consider first.
You would require to register a company that will involve costs based on your choice of onshore or offshore. Also if you require a bank account to ease financial settlements, the cost will obviously increase. Onshore jurisdiction is the most genuine and trustworthy but at the same time, it requires a large amount of capital and running costs as you need a physical office and a team of a few employees present. This is the main reason why most brokers prefer offshore company licenses. This would be a little cheaper comparatively as you are allowed to have a shared office and shared resources. Also, the cost would depend upon whether there is a requirement for a security deposit or not. Some jurisdictions like Vanuatu in Malaysia require a security deposit but Mauritius does not though both are offshore entities. So it depends on which jurisdiction you choose for your brokerage, accordingly, your costs will increase or decrease.
2. Timeline:
Again it depends on which jurisdiction you have opted for. If you choose offshore it will take less time. The approximate time for getting an offshore license is about 3-6 months whereas an onshore company would require almost 6-9 months or sometimes 1 year also.
3. The credibility of the jurisdiction:
Before selecting any jurisdiction be it onshore or offshore, you first need to check its credibility in the market. You can do some surveys or check on the internet and find a credible license for your firm.
4. Payment Gateway recognition:
You should try to opt for a jurisdiction where most of the payment gateways are recognized irrespective of where you are trading. Here banking too would play an important role. So if you require a Bank Account, obviously the cost and time required would increase.
5. Processing and maintenance cost:
There will be a one-time registration and processing cost as well as an annual maintenance fee involved for each jurisdiction. For offshore this cost would be less and for an onshore license, the cost would be higher as the capital required would be higher and maintenance cost would be higher too.
So that now you know there are many factors to consider before making a choice for a https://api.whatsapp.com/send/?phone=16694993709
Get Started with Pheasantech
Recent Post



Category
Follow