Unlocking the Power of Sirix - Our Newly Integrated Trading Platform

Category :
Sirix/MT4/MT5/Vertex White Label

By:
Calvin Morris

08-09-2023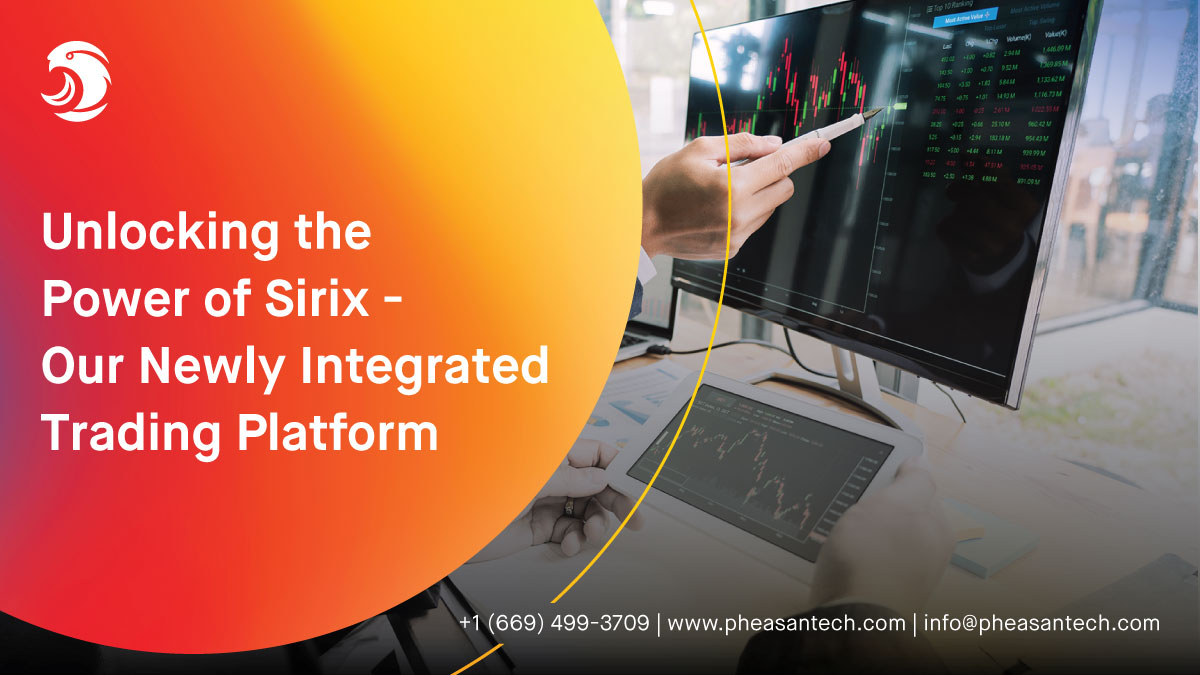 In the dynamic world of forex trading, maintaining a competitive edge is a constant challenge for brokers. With millions of traders seeking the best platforms and services, brokers must continuously innovate to stay ahead. Today, we're thrilled to unveil a game-changing solution that empowers forex brokers like never before. Our collaboration with Levarate has brought the Sirix Trading Platform into our arsenal, seamlessly integrated with our Cloud Forex CRM.
Understanding Sirix
At Pheasantech, we understand the challenges brokers face in this highly competitive market. That's why we've joined forces with Levarate, a leading name in forex technology solutions. This collaboration allows brokers to integrate not just one, but multiple trading platforms, including MT4/5, Vertex, and our latest addition, Sirix.
Unleash the Features of the Sirix Trading Platform
As a broker, you hold a unique position in the forex world, and with Sirix, you can extend exclusive privileges to your traders. Here's how you can empower them with the fantastic features Sirix offers, enhanced by the capabilities of PheasanTech and our Cloud Forex CRM:
1. User-Friendly Interface:
Sirix's intuitive interface simplifies the complexities of forex trading. It doesn't matter whether your traders are newcomers or seasoned pros; Sirix makes the trading process seamless, allowing them to focus on making informed decisions., With the integration of Sirix and Cloud Forex CRM, you can offer a customized experience tailored to each trader's preferences and trading history.
2. Copy Trading Hub:
Imagine offering your traders the ability to follow the trading strategies of seasoned experts in real time. With Sirix as their personal copy trading hub, your traders can connect with these experts, mirror their strategies, learn from their insights, and potentially enhance their trading success.
3. Advanced Charting Tools:
Charts are the windows to the forex world, and Sirix equips your traders with advanced tools for in-depth analysis. Real-time charting and comprehensive analysis tools empower them to make well-informed decisions, just like seasoned traders.
4. Security and Reliability:
Security is paramount in forex trading, and Sirix takes it seriously. Your traders' data and transactions are protected with the highest standards of security. Plus, Sirix offers reliability, ensuring that your traders' experience remains uninterrupted even during the most volatile market conditions.
5. Trading on the Go:
Your traders lead busy lives, and Sirix understands the need for flexibility. With its seamless mobile app, your traders can execute trades from anywhere, at any time. Whether they're at a cafe, on their commute, or taking a break, Sirix keeps them connected to the forex market.
6. Seamless Integration:
Sirix isn't an isolated platform; it thrives on integration. By integrating Sirix with your brokerage, you create a unified trading ecosystem that streamlines your operations, making everything more efficient for both you and your traders.
With Sirix, you're not just offering a trading platform; you're providing your traders with a gateway to a superior trading experience, tailored to their needs and preferences while ensuring the highest level of security and reliability.
Benefits of Sirix
Copy Trading
One of Sirix's standout features is copy trading. It allows you to replicate the strategies of experienced traders, potentially boosting your own trading success. It's like having a trading mentor guiding your decisions.
In-Depth Analysis
With Sirix's advanced charting tools and real-time data, you gain access to in-depth market analysis. This knowledge empowers you to make well-informed trading decisions, enhancing your trading prowess.
Security
Your financial well-being and data security are top priorities for Sirix. It employs stringent security measures to protect your assets and personal information, providing you with peace of mind.
Mobile Accessibility
The mobile app sets you free from the confines of your trading desk. It guarantees that you're perpetually in command of your trades, no matter where life takes you. This unparalleled level of accessibility is a game-changer, offering traders – both brokers and individual traders – the flexibility they crave.
Putting Sirix into Action: Your Trading Revolution Begins
Now that you're well-acquainted with Sirix's extensive features and benefits, it's time to embark on a revolutionary journey for your Forex Brokerage Business. Whether your trader is a novice and eager to learn from the best, an experienced one in search of advanced tools, or someone who values security and mobile accessibility, Sirix has something exceptional to offer. Regardless of whether your traders are just starting their forex journey or have years of experience, Sirix is tailored to meet their unique needs and preferences.
Sirix isn't just a trading platform; it's a transformational tool that can elevate your brokerage to new heights. Together with PheasanTech and Cloud-Forex, we invite you to embark on this journey of enhancing your traders' experience and boosting your brokerage's success.
We specialize in providing integrated solutions for forex brokers. Whether you want to integrate Meta-quotes, Sirix, or Vertex trading platforms, we have the expertise to make it happen seamlessly. Visit our website for more information or contact us on Skype for further discussion. Let's simplify your brokerage operations together and create a brighter future for your traders.
Get Started with Pheasantech
Recent Post




Category
Follow