3 success mantras to run a profitable forex brokerage business
Category :
Forex Brokerage
By:
Calvin Morris
27-04-2020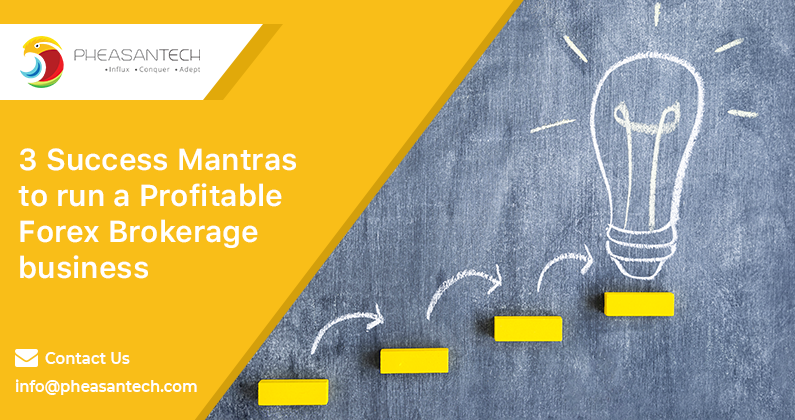 Most of the brokers offer more-or-less similar products and services. That's a fact! But this doesn't mean that there's no competition at all, in the forex broking industry. When we are talking about $5 Trillion being traded all around, there is a huge scope for brokers to create a sustainable ecosystem which attracts more and more traders. Quite simply, the more traders you have on board and the more you retain on your forex trading platform, gives you more profits.
But there are ways!
Ways to run a profitable forex brokerage business.
Being a forex broker, you are not going to control the events, policies and trends of global scale. You and all the traders on your platform will have to adapt to them. It is the external environment that you can't control, and maintain profitability. But you can totally control the internal environment. i.e. the way you carry out the relationship with the traders, the way you offer them services, the ease with which they can trade online, and of course, the profit you manage to give them.
In this article, we will talk about three major practises that will help you get more and more forex traders on board and retain them for a longer time.
So, here are your success mantras to run a profitable forex brokerage business.
3 ways to make profit in forex broking business:
1. Offer 'Deposit Bonus'to the amateur traders
Being a forex broker, you often see that the traders have apprehensions about the forex trading world and they are reluctant to trade with high trading capital. As a forex broker, you need to encourage them to do trading without fear. Also, you need to help them be familiar with trading practises and trends.
A 'Deposit Bonus' is the ideal way to break the ice. When the new traders open a forex trading account with your forex broking platform, you can help them by offering them an additional trading capital. This will allow the traders to open trades with higher volume. After all, they are going to pay you your spread whenever they do a trade.
2. Offer 'Guaranteed Stop-loss' option to traders
What is a 'Stop-loss' order? A 'Stop-loss' order is the automatic trade order given to the broker, by an investor. Whenever the price of a specific currency falls below a specified limit, the broker executes the sale order to minimize the losses incurring in that specific case. 'Stop-loss' orders help the traders to manage their trading capital smartly.
This is a good way to help out the traders in maintaining their profitability. And if the traders can maintain their profitability, you – as a broker – will maintain your profitability too. Sometimes, it is hard to sale a currency at a very specific price because of 'slippages'. In such cases, a broker may even offer to cover these slippages on its own and give a guarantee to the traders.
3. Offer 'Fixed Spreads' & 'Low-cost Spreads' to traders
What is 'Fixed Spread'? As the prices of currencies keep changing every second, the actually spread which a trader can avail is floating too. Fixed Spread is spread in which the difference between the ASK price and BID price remains constant, ensuring the profitability for the individual traders. In such a case, the broker bears the deviation in prices, if any.
What is 'Low-cost Spread'? For every trade that is executed, a spread is paid to the interbank market, liquidity providers, and technological access to market platforms & servers, etc. A 'Low-cost Spread' is spread in which the difference between the ASK price and BID price is low. This way, cost of trading is greatly reduced, increasing profitability of the traders.
Forex trading is not the market for faint-hearted! Because it requires a great deal of understanding, talent in math and of course a solid trading capital. At the same time, it is also true that the people, who are seriously interested in forex trading, can earn a fortune. All they need is a reliable forex trading platform. Pheasantech is an India-based IT Service provider company which offers you thorough assistance in setting up your own forex broking business from the scratch. Staring from Company Formation to Brokerage Solutions and Technology Solutions such as Forex CRM and Forex Digital Marketing, Pheasantech will help you start your own forex broking business and help you make it profitable. Send us an email on info@pheasantech.com or register for a free consultation.
Get Started with Pheasantech
Recent Post




Category
Follow