3 actions you should be taking if you want to be a Forex Trader
Category :
Forex CRM
By:
Calvin Morris
19-08-2019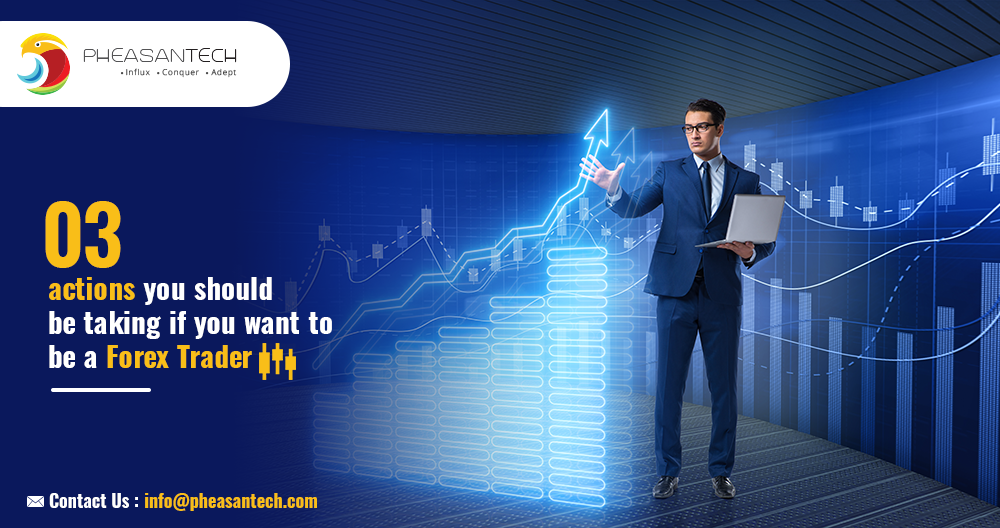 So, you have also been bitten by the forex trading bug? Well, that's alright! Today, there are already 9.6 million traders (see the image below) and millions of people around the world are thinking about foraying into forex trading market. That's because this is a staggering $1.93 quadrillion market and it has something for everyone that gets into forex trading. Be it a forex broking company, introducing brokers or independent traders, there is a great potential for everyone in the forex trading industry.
Being a forex trader is not easy though! Forex trading market is like an Ocean. There will be calm water somewhere and there will be a tsunami too. So, every trader needs to navigate through this Ocean with a little bit of courage and skills too. It is how you approach the forex trading, will decide you far you can go on your voyage. Here are three things that you must do, if you are want to become a forex trader?
1.Chalk out your forex trading objectives
Before you foray into forex trading you need to be clear about what you want out of it. Forex trading is definitely not the option if you are considering it to be a regular source of income for paying your everyday bills. It is trading and it comes with its share of uncertainty, so your strategy must be constantly evolving. It would be wiser to talk to somebody who is trading in forex already. So, list out your skills, previous experiences and your objectives; and jump into the forex trading without any worries, if you are sure about it.
You'll need good analytical skills and proper planning for your investments and a fair share of hard work in studying the forex trading trends. You'll need to understand that though this is a trading market but it is different from others and it may take a bit more time to get the hang of it. Also, you'll need a kickass forex trading platform which offers you a good trader's room from where you can trade in forex.
2.Register with a good forex trading platform
This is the step with which you actually become a forex trader. The registration process might take some documentation and verification process but those are usually as per the local regulatory laws. By registering, you can avail the forex trading platform's different services and get into the trader's room. You may not want to start trading right away, it is always better to see what others are doing and how they are doing.
Also, you need to be careful while selecting a forex broker. Along with the trading, the experiencing with the trading platform is equally important. Any forex trading platform must have a well-set CRM software through which you can interact with the forex broker and the team. A CRM will be the only way through which you will be able to resolve your issues and get your queries answered. So, any platform that is not offering a CRM, may not be there to help you when you need the most.
3.Understand the functionalities of the platform
Before you start driving your car, you learn which pedal does what and which buttons you should press when? This forex trading platform is your instrument now, and you need total understanding of it before you start trading. You need to know about important features of the CRM, the trader's room, payment systems and security details. So, be sure about spending a lot of time in understanding what you are dealing with. And it will help you define your trading strategy in the future, if you know in and out of the trading platform.
How will you approach trading? Are you going to be staring into the screen to monitor the trends every day? Or are you going to study the trends every week-end and define a strategy for the upcoming week? There are lots of ways to do forex trading and which one to choose depends on your natural talent and how comfortable you are on the trading platform. So, your patience, discipline, objectivity, methodology, risks and the qualities of your trading platform; these all factors will together chart your way to success in forex trading.
Forex trading is an amazing experience and it is very lucrative too. You'll need to align all the factors in to their places, one by one, to reap amazing benefits in the long run. You'll need to constantly evaluate your own performance and the situation out there in the market, to be on top of your game. But make sure you choose a reliable forex trading platform that offers security, good services and a CRM system. Pheasantech is one of the only companies in the world that offer state-of-the-art forex CRM solutions at very attractive prices. Check out how good forex trading is for you. And if all goes well, you can also become a forex broker and start your own forex trading platform. Contact Pheasantech on info@pheasantech.com. Happy Trading!!!
Get Started with Pheasantech
Recent Post




Category
Follow