Top reasons why Forex Brokers fail in 2019
Category :
Forex CRM
By:
Calvin Morris
14-05-2019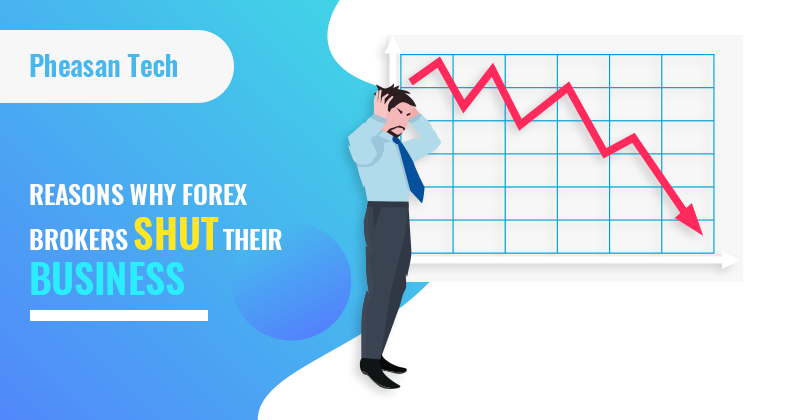 Forex broking is not so easy, first of all! When you know you are going to be facing different countries and their technology, you understand why you need to take care of your technology. One of the biggest reasons why traders fail is, not being true to the prevailing technology. When you do not update your system for a long time, you lack the ability to leverage the technology, while others are doing it.
One such interesting reson why forex broker fail is, the 'Customer Relationship Management'. Many traders turn away from the platforms that don't have a good trading experience, a good Forex CRM.
Here is the list of reasons why forex brokers fail!
1. Bad customer service
In this case, bad trader service! This is global trading so there are dos and don'ts. The customers are the most important asset for your forex trading firm. Most importantly, it's easy to give traders a great trading experience. Today's technology makes it so much easier for you to manage customer relationships. Getting a CRM for your forex trading business is the answer.
2. Not having proper licenses
Of course, there are rules and regulations involved in forex trading business. As a forex broker, you need proper license for different regions and countries to legally offer forex trading services there. For that, you can take help of offshore partner for development. You can contact Pheasantech if you need assistance in acquiring requisite licenses from the authorities. Click here.
3. Not using digital marketing
This is digital age, so you need to be where the people are. Physically they can be anywhere but digitally they are everywhere. You need to implement SEO, Email Marketing, Social Media Management, Reputation Management, CRO, PPC and everything else you can, for digital marketing. Because traders are out there, looking for a good forex broker, you need to tell them where you are.
4. Difficult payment method
Forex is related to money; and forex trading has a lot of potential for earning, which is why traders are there. So, payments are important! If the traders find your payment module not-upto-the-mark, it is loss of a customer right there. You must look for the bet way for electronic payments, the one that is easy, fast and cost-effective. And then you need to integrate it with your platform.
5. Wrong offshore partner
Finally, you need to create your own forex trading platform and make it available to the people digitally. It requires a lot of development and optimization. So, selecting an offshore partner for developing forex trading platform is a good decision. But you need to check the credibility and experience of the partner first. An inexperienced firm might end up complicating the project to impossible.
Pheasantech offers you the best forex trading platform development services at the most cost-effective prices. Pheasantech offers you licensing and consultation services, payment method integration, forex digital marketing, and IT development solutions. Get in touch with us on info@pheasantech.com.
Get Started with Pheasantech
Recent Post




Category
Follow