What Are The Main Elements A Complete Forex Brokerage Website Should Contain?

Category :
Forex Website

By:
Calvin Morris

28-01-2021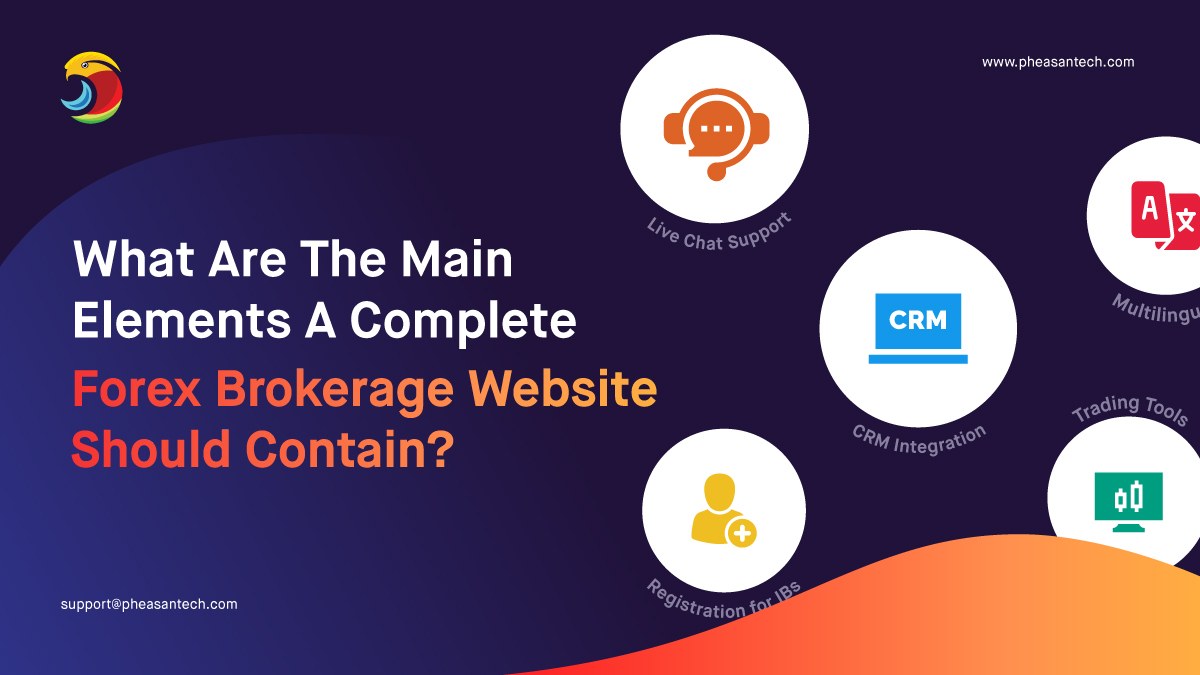 What makes the first impression of your business? Off course it is your Website!! It is the driving force of your business at the first place. So, don't you think your website deserves the best when it has the ability to promote your business throughout 24x7?
Just like any other business, Forex Brokerage website should be as fresh and exciting as it can be. A well designed Forex Website can be a magical wand for you to mark your presence in this highly digital world. To stand out of that crowd of so many Forex brokerage websites, you indeed need a masterpiece in the form of a very well-crafted website.
Here we would like to bring to your notice some important elements without which any Forex Website is incomplete.
ONLINE ACCOUNT OPENING FORMS SHOULD BE INTEGRATED WITH CRM SYSTEM
To keep the account opening process quick and simple, account opening forms must be integrated on your website. Because of this there will be no need of using conventional old-fashioned pdf or printed form filling.
REGISTRATION FORM FOR IBS
If your client would like to introduce IB, he can directly do that through website if there is readymade form for registration of IBs available there.
MULTI LINGUAL
As a broker has to approach multiple regions/countries, he must give support in multiple languages to reach maximum number of clients. It is better to plan in advance on which languages you would like to incorporate on your website.
LIVE CHAT FOR CONTINUOUS ONLINE SALES AND SUPPORT
This is something very important when we talk about 24X7 promotion and support. As the Forex Market is very competitive in nature, you need to be ready with answers to customer's smallest queries regarding trading. And especially for the simple queries, live chat becomes very easy and convenient option rather than dialing a number or writing a mail. So having live chat on your website is a must.
INCORPORATE FOREX TRADING TOOLS
For proper marker analysis or to select appropriate trade, for planning a strategy or profits, you must require to have the finest Trading Tools available on your website. Some of the tools you must incorporate on your website are Economic Calendar, Forex Calculators, Forex Market hour's widget etc.
Once you have the idea about the elements to be included on your website, you would require a good Forex Website Developer who can help you create a piece as per your taste.
We, at Pheasantech are a Forex Website development company who can help you with
Planning a feasible development plan
Creating content and functionality
Actual design and development
Launching website on your server and get optimized it on search engines
All Pheasantech websites are
Responsive from all sort of devices
Custom made design according to your vision
Superb Functionality
So, if you have a plan to stand out of the crowd and make your first impression as fresh and as innovative as you think, then contact us at WhatsApp us at calvin.pheasantech
Get Started with Pheasantech
Recent Post



Category
Follow