Why should you outsource Forex Broker Solutions from PheasanTech?

Category :
Forex Brokerage

By:
Calvin Morris

05-04-2021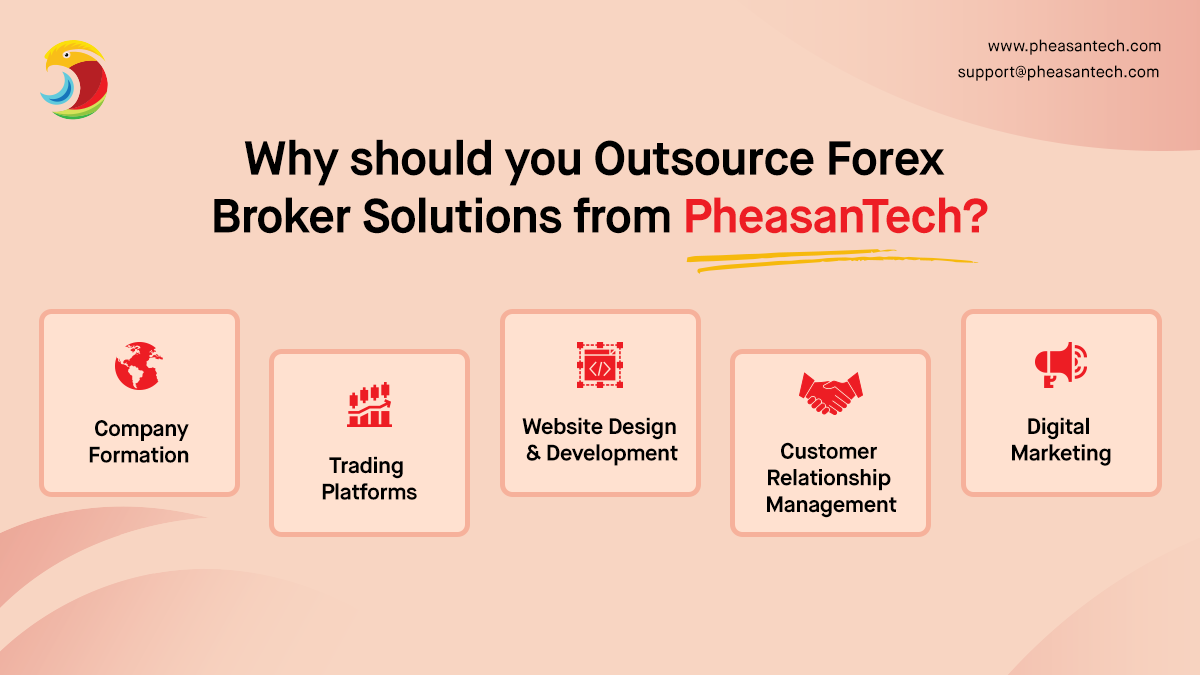 To open a new Forex Brokerage Firm may be highly potential business venture if you have proper guidelines these days. As Forex Market is an established one which has very high trading volumes where you get oceans of win-win opportunities. To avoid any kind of complications in terms of different procedures while opening a Forex Brokerage Company, it is advisable to outsource the process to an experienced solution provider like PheasanTech which can make it super easy for you with its complete brokerage tools and services solutions.
PheasanTech offers consolidated brokerage solution for your firm from beginning to end. To know why you should choose PheasanTech, you must know the services and tools we provide to our valuable clients.
1) Company Formation and Obtaining Forex License
If you are a new or existing Forex Broker, in need for Forex License and Company formation in a particular jurisdiction, you will need a professional guidance especially for the legal procedures. You need to follow a strong code of conduct. To start with, you would require a compliance with the regulatory authorities of that particular region then only you can operate legally. PheasanTech's experienced professionals team will carry out specific compliance activities and assist you to obtain a license. You can choose from number of various jurisdiction options we offer.
2) Trading Platforms
To begin with a trading, you must have professional Trading Platforms which your traders can use with ease. Pheasantech provides MT4 and MT5 White Label solutions which are the best trading and analytical technologies required for running your Forex Broking Business. This is the best option for Introducing Brokers as you don't need to get a full MT4 server license and set up servers to host the MT4 software. You can set up MT4 White Label from brokers who holds full server license. It saves time and money both!
3) Website Design and Development
As you know, a forex website is essential to mark your presence in the digital world. PheasanTech is the forex website development company which will create a masterpiece for you. One can expect totally customized Forex Websites with PheasanTech.
4) Customer Relationship Management
At every step of Forex Broking Business, CRM will streamline the processes. PheasanTech's Cloud Forex CRM has amazing features and is totally customized as per scale and target audience. Also you get easy upgrades to fine tune the functionalities. It is designed to save time and efforts of broker's sales team and it is super easy to learn and use on daily basis.
5) Digital Marketing
To connect with people online is the only effective way in this digital era. PheasanTech's Forex Digital Marketing will help the broker leverage technology and boost their sales. Be it social media post, Blog post, or any other way to connect with the client, digital marketing is an effective tool to target potential customers, answer queries, tract activities etc.
So, if you are a Forex Broker and looking for the best broker solutions, leave your worries and confusions with us and let us serve you with the finest services available with us. Outsourcing Broker Solutions will be a great help for you to focus on your business. Knock at www.pheasantech.com or skype us at https://join.skype.com/invite/vMmITUzzhe05
Get Started with Pheasantech
Recent Post




Category
Follow