Why creating a professional forex website design is a must for forex brokers?
Category :
Forex Website
By:
Calvin Morris
29-08-2019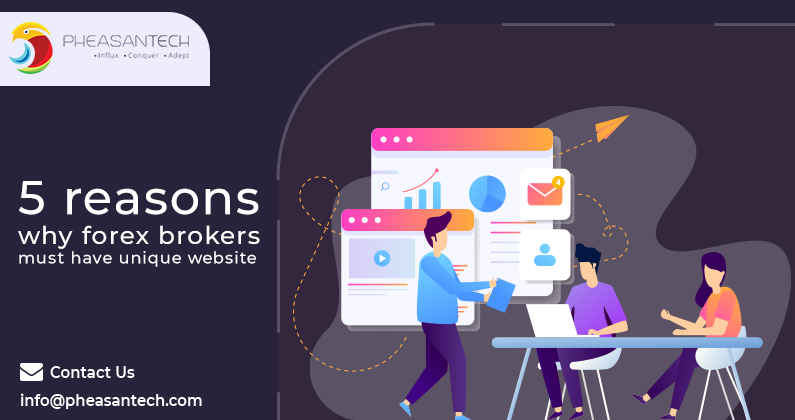 Today, everybody knows what a website does and why it is important. In this blog, we shall try to understand how a website can make huge impact on the minds of forex traders? Forex trading sector has been growing at an astonishing rate while the rest of the world is speculating about the next recession. Forex trading sector looks strong and consistently evolving and this makes it one of the most potential sectors in the world for the next 5 years.
More growth also means more competition. There will be so many more new brokers added in the forex trading industry, in next 5 years too. At the same time, millions of new forex traders will enter the forex trading market too. As a forex broker, you should take the initiative and reach out to them first. You need to leverage the technologies such as digital marketing, forex CRM, chatbot to stay afloat and relevant. A website design is important because that's the face of a forex broker or any business owner, today.
So, here are the 5 ways in which your forex website design can make a great impact on traders.
1. Quick Touchpoint for All
Anyone with an internet connection today, expects you to be there when they look for you. It takes just 2 seconds for a person to grab the phone and try to know more and try to get in touch with you. To be a successful forex broker, you need to design a forex broking portal that is responsive, takes less time to load and looks fantastic. If you fulfil people's expectations the very first time then that rule applies, first impression is the last impression.
2. Search Engine Ranking
We can imagine that the traders might not know the name of your business or website at first. So, they will try to find you by doing different search queries on the search engine. Design plays an important role in optimising the search engine ranking. How you publish content on your website and how are the graphics on your website design, makes a big impact on your SEO and you'll need to update every now and then, as per prevailing search engine practises.
3. Different and Attractive Personality
It would be naïve to think that traders won't check out multiple brokers' websites before getting on board. A simple logic is, they should remember you in this entire process of selection. The website design for your forex trading platform must have that flair in design which makes a positive impact on their minds. Also, the design needs to be refreshed as per the new trends and preference of the users. You can ask experienced forex website design professionals like Pheasantech, to guide you through the process. The graphic design must have its own style and visuals with a purpose.
4. Landing Pages and Promotions
A broker will need to do promotional campaigns to capture the attention of potential traders. This means running multiple ad campaigns on social media, search engines and other websites. A landing page becomes an extended sales page where we can receive the people who were redirected from the ad campaigns. The landing page will be like a visiting card of your website, it will follow the website design and content theme and serve a specific purpose.
5. Overall User Experience
This is one of the most important part of the sales operations of a forex broking platform. If a trader, happy with your forex trading platform, suggest you to others through word of mouth, that is how success looks like. Because in trading sector, trust is a debatable issue and everyone believes the recommendation of the peers over the promotions. IF the website has an amazing design that makes a positive impact on the user's mind, through flawless functionality, attractive design, clear content and responsiveness, all these aspects create a greater picture of User Experience (UX).
Pheasantech is a company that offers comprehensive tech services to the upcoming forex brokers. From forex web design to landing page design, from forex traders' room to forex CRM, from forex digital marketing to forex SEO; Pheasantech offers you a comprehensive set of services that is designed to launch your new forex trading platform into the right trajectory. You can send an email to Pheasantech on info@pheasantech.com or you can request a quote for your idea from Pheasantech. Happy broking!!
Get Started with Pheasantech
Recent Post




Category
Follow