How to master forex CRM in 6 simple steps?
Category :
Forex CRM
By:
Calvin Morris
12-09-2019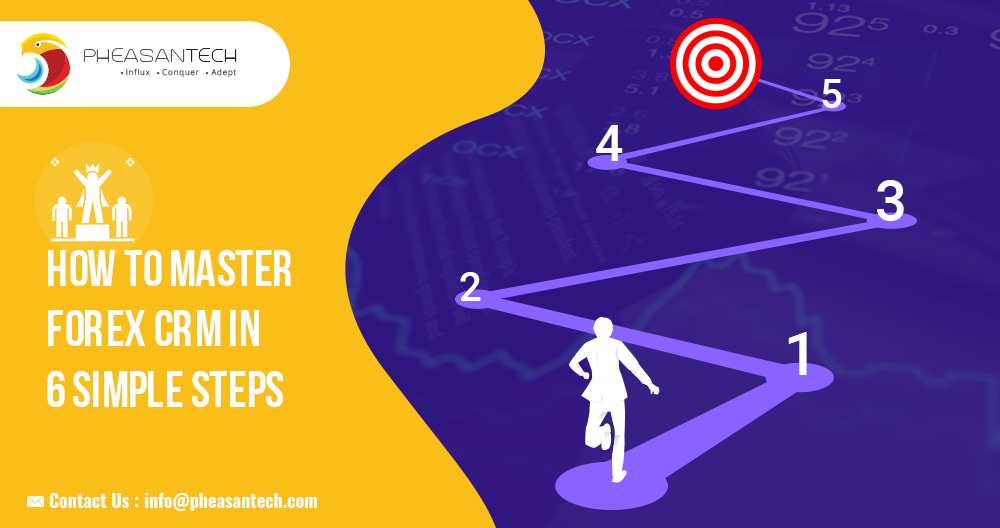 Being a forex broker, even though it seems easy, is a really complex task. Especially in the era of digital revolution, a broker needs to act fast and smart, to obtain and retain the existing customer base. By customer base, we mean forex traders. Global forex trading industry is on a song and every day, thousands of new forex traders enter the forex trading industry. So, as a broker, you should be able to reach out to them and showcase the advantages of your forex trading platform. It is very much possible through effective use of the internet and technology such as CRM.
A CRM is software that allows you to manage customer relationships, without any hassles. CRM is like a magic wand for forex brokers. Once your forex broking platform is equipped with the forex CRM software, your sales team can manage so many traders online, at the same time. This allows you to boost the productivity of the sales team and get more business. So, if you know how to use the CRM to the fullest, you can easily get one step closer to your goals in the forex trading arena.
Here are the 6 simple steps to master the forex CRM…
1. Find out which type of leads are working for you
One of the best features of any forex CRM is the lead analysis. There are multiple sources of leads and for any broker, it is necessary to find out which type of leads are the most successful ones? If you know that, you can focus on that source of leads and generate more business. A CRM helps you in this analysis of leads and helps you identify the most promising sales strategy.
Also Read: 3 actions you should be taking if you want to be a Forex Trader
2. Identify and engage with the most potential leads
If you know which type of leads can be converted easier and faster, you can target that segment aggressively. And not just analysing the lead conversion, CRM also helps a broker to see which leads have generated more business after getting converted. So, CRM helps you identify the most profitable leads and allows you to engage with them effectively.
3. Retain the traders on your forex trading platform
Not just getting new traders on board, you must retain the existing traders on your platform too. For that, there should be an effective communication channel between the traders and the broker. CRM is the most crucial link. Your team should stay in touch with the traders and resolve any issues that they are facing, to stop them from leaving your platform.
4. Obtain and analyse the data to plan the way ahead
You can monitor the activities of individual traders and their performance through the huge amount of data that they generate. A broker can analyse this data and manoeuvre the sales strategy to get more and more traders. Understanding the minds of traders and their tendencies can help a broker address their requirements and create long lasting customer relationships.
5. Create and implement the outreach strategy
A CRM helps you in getting and retaining traders on board, but the experience of using a CRM helps you to a great extent in the next step. Based on the CRM data, you can revise your initial approach to the sales and focus on more profitable sources of leads. And not only the analysis, CRM helps your sales team to create a new outreach strategy, manage the promotional plans, approach the potential traders and analyse the outcomes.
6. Update and upgrade the CRM for optimum performance
In today's world, the technology changes shape every passing moment. The world changes and the people change every day, in such a tumultuous world, it is important to stay updated and stay relevant. Your CRM also needs to be equipped with the latest technology and widgets which can make the work of your sales team easier. Building and using CRM is a constant process, and updating the CRM with the latest technology is the best way to boost the productivity of the sales team.
Creating a CRM is a big task, but it can be done. Integrating a perfect CRM system is the first step towards creating a successful forex trading platform. Pheasantech can help you with a thorough understanding of the forex broking industry. Starting from company formation to obtaining license, launching a portal and promoting it, Pheasantech offers you the comprehensive support in your forex broking endeavour. Contact Calvin.Pheasantech on Skype or click here to get in touch.
Get Started with Pheasantech
Recent Post




Category
Follow