6 points to consider before starting your own Forex brokerage

Category :
Forex Brokerage

By:
Calvin Morris

24-01-2023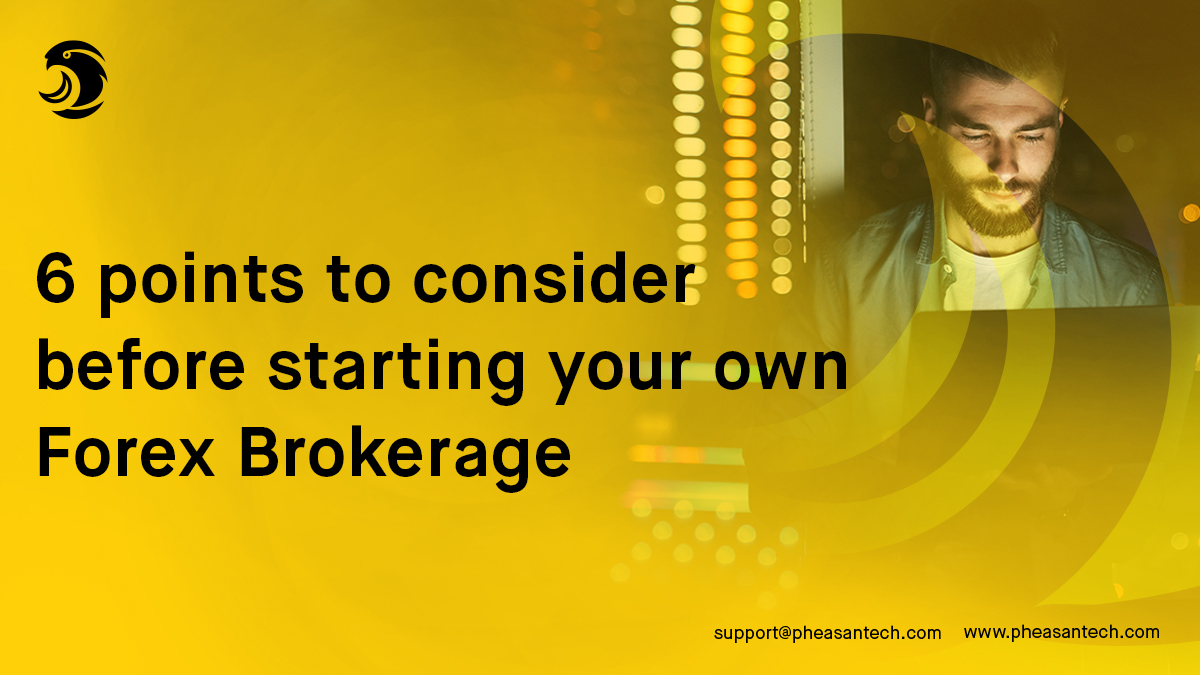 The Forex Market is the largest in the world in terms of volume. It generates almost $5 trillion a day, which is not possible with any other market. No wonder a large number of investors and traders have been attracted to this lucrative market in the last few years. Opportunities of generating a hefty amount of revenue have fetched the interest of many investors to become Forex Brokers instead of just introducing clients. So, if you are thinking of setting up your own brokerage business, here are the 6 major tips that anyone should be aware of:
1. Company Formation:
Establishing your own company is a major thing of concern as a lot of legal framework is involved, like corporate bank accounts, deciding the workflow and process, etc. The steps you can follow for this are as below:
Choose a convenient jurisdiction, register, and obtain a license for your company according to your budget and requirements.
Bank Account opening for funds deposit and company operation
Buying an office, equipment, etc.
Hiring a competitive team
2. Select the right business model for your brokerage:
There are three general models that a Forex Broker can go for:
Market Maker or Principal Model - Here B books are the client's trading activity where he takes risks on his own books
STP or Agency Model: Here, a broker straight through processes all of the trading activity to a reputable counterparty.
Hybrid Model: Here the broker can run a combination of both the Principal as well as the Agency Model with a certain set of risk criteria.
You have to find a partner or counterparty that is structured and flexible to any business model for your brokerage. Also, you have to set up an IB and fund manager infrastructure that includes necessary trading and reporting tools.
3. Clarity and Complete hold:
As liquidity and technology are involved, you have to go with the one that is the most transparent and provides most of the information about reporting and execution of trades in real-time. Also, you make sure that you have total ownership of your client base and their details are not shared with anyone else, especially your competitors.
4. Liquidity Provider:
You need to choose a strong PoP (Prime of Prime), to get all the benefits such as margin, the ability to have your money in one place and dealing with a single point of contact. Prime Brokers can deal easily with multinational corporations, hedge funds, and large brokers. Remember that you have to choose a regulated PoP that offers quality institutional Tier -1 liquidity and transparent execution.
5. Innovative Technology:
You should search for a flexible technology provider who can support you as your requirements change. There are plenty of technology providers that offer full turnkey solutions for your Forex brokerage. Just look for trading software, bridges, risk management tools, etc. A highly advanced RMS (Risk Management System) will help you reduce your potential loss and also provide a good trading experience for your traders.
6. Assurance of safe funds:
For the safety of your funds, it is advisable to collaborate with a regulated broker in order to ensure that your funds are segregated. Regulation information should be available directly on the broker's website and also on the regulatory agency's website (ASIC, FCA).
In order to establish and emerge as a successful Forex Brokerage in this competitive market, you need to focus on the above-mentioned key points. Contact us at https://api.whatsapp.com/send/?phone=16694993709
Get Started with Pheasantech
Recent Post



Category
Follow