7 Reasons to adopt a professional web design company
Category :
Forex Website
By:
Calvin Morris
02-07-2019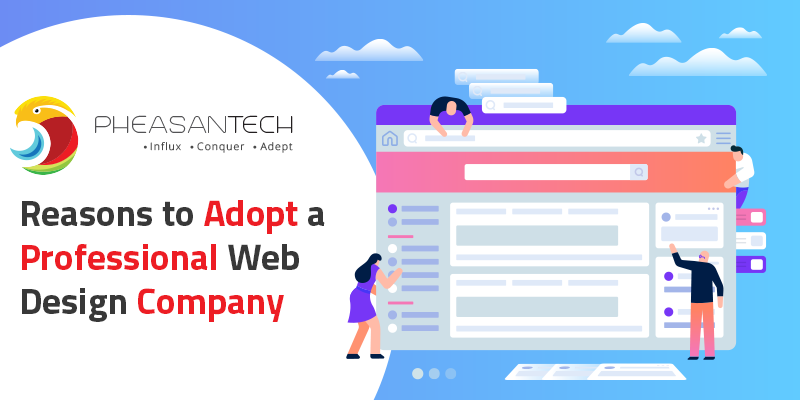 Website design has come a long way in last decade, especially in the field of forex trading. The technology has made trading easy and fast through mobile websites. This is the reason; more and more people are opting for online forex trading these days. You can also create your own forex trading platform and let the traders do forex trading with ease. All you need is, a professional web design company.
Why PROFESSIONAL web design company? Because, forex trading is a sensitive market, in terms of both – technology and regulations. If you are really looking forward to creating a forex trading platform which attracts traders from across the globe, you need the web developers with thorough understanding of this market.
So, these are the 7 reasons why you should always adopt a professional web design company for your forex trading platform.
1. Visual Appeal
The visual appeal of a website plays a significant impact on a website's conversion rate. It works as a subconscious approval or denial of any forex trading platform, by the traders. So, the forex mobile website needs to be really attractive in appearance and only a professional web design company can give you that. Because, a professional web design company will know the sensibilities of the traders and the market trends in depth.
2. Innovative Features
Everyday, a new technology comes into the world of web design. Some of these technologies are good, some are not however, they all have their own advantages/ good features. You can create a totally customized forex trading website by utilizing the best features and integrating them on your platform. You can use latest payment gateways, CRM, SEO, RSS feed and so many cool features to give traders the experience they deserve.
3. Easy Updates
Creating a mobile website is the work half done, the next half lies in maintaining and updating the website. Web design is never really over, all the professional web design companies know this. So, when you hire a web design company, make sure that the company is experienced and gives you a proper web master services to keep your forex trading website fresh and fast.
4. Licensing Support
Apart from the website designing, you also need to follow laws of all the respective countries you wish to operate in. This includes company formation regulations, licensing, payment services and nominee services. The rules describe what you can do and what you can't, as a forex broker. So, the website also needs to be designed keeping them in mind. A professional web design company such as Pheasantech can help you go through the nitty-gritty of creating your own forex trading platform.
5. MT4 Solutions
To foray into the forex trading market, you need a MT4 White Label Program. It allows a forex broker to get traders on-board and let them trade using liquidity. To be a successful forex broker, you need to integrate the MT4 White Label software on your platform, able to withstand high volume trading with lowest latency. A professional web design company will be able to integrate MT4 on your forex trading platform perfectly.
6. Conversion Optimization
Apart from creating a forex trading platform and obtaining licences from the authorities to operate, the biggest task on hand is - getting more traders. You need to create a good online presence and reputation to succeed in this highly competitive market. You need to define a proper communication and promotion strategy, to catch the attention of the people on search engines, social media and advertising arena.
7. CRM Solutions
This is probably the most important reason why you need a professional web design company to create your forex trading platform. A CRM software can help you and your team to manage the relationship with traders and Independent Brokers (IBs). In fact, integrating CRM with your website and Trader's Room is essential for exercising total control over what happens on your trading platform.
As you see, the forex trading market comes with its own complexities and requirements. A professional web design company, with a set of experienced web developers, can create a robust platform for forex trading. Pheasantech is one of the most preferred forex web design company that offers you all the above-mentioned benefits at the most reasonable costs. If you have a dream to make it big as a forex broker, create your own trading platform now! Contact Pheasantech on info@pheasantech.com or just click here.
Get Started with Pheasantech
Recent Post




Category
Follow