Tips for selecting the ideal jurisdiction for incorporating your forex business

Category :
Forex Website

By:
Calvin Morris

03-10-2019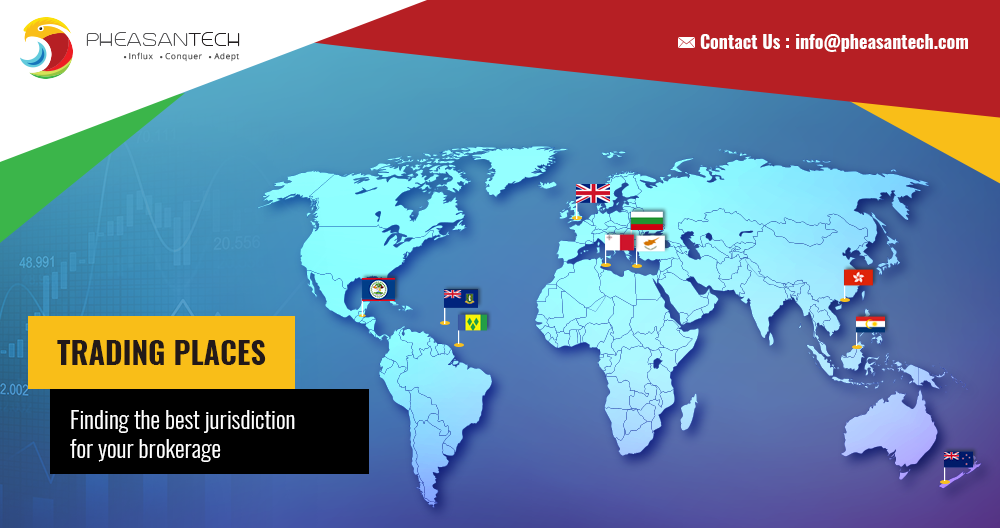 Forex trading can be done online, even from your smartphone, from everywhere. But that is not true for forex broking. Forex broking firms are like the nods in a humongous network of traders. And one of the most important things is, they are the nods through which financial transactions can happen. When this financial aspect comes in the picture, it changes the entire equation. Daily $5 Trillion are passing through these nods – the forex brokers. It attracts so many taxation and regulatory laws hence it is very important to find a trading place that falls under those jurisdictions which are favourable for you. Not having proper licenses as per the jurisdictions is one of the top reasons why Forex Brokers fail. In this article, we will talk about the things to keep in mind while finding the best jurisdiction to incorporate your brokerage business.
Things to keep in mind:
The place where you register your brokerage business doesn't have to be where your operations are managed from and where your targeted market is.
Every country hasregulatory framework and a government organizationwhich regulates the entire industry. You need to research on all of them to actually understand the environment of the world. And it takes a lot of time, research and experience.
A forex brokerage firm will need to create a bank account and avail services of Payment Service Providers. This plays an important role in selection process of the ideal trading place.
Some are the locations which firms select to gain certain prestige, and it also creates certain level of trust in the minds of traders. But then they also impact on how big your 'Minimum Net Capital' would need to be.
Countries like Malta and Cyprus are gaining much popularity because of the balance they give in terms of affordable trading license fees, need for capital and lesser risk. Cyprus has member ship of the EU. So, it makes providing services in European countries very easy.
Malta is rising rapidly on the map of global forex trading industry. It offers a very much reliable regulatory framework.
Selecting an offshore location is also advisable because the business can be started with lower capital, expenses and regulations. Locations like Seychelles and Mauritius have pretty amazing environment to launch your forex broking business.
Whether you need to obtain the STP license or you need the license as Market Maker, that depends on your business plan and the prevailing laws. So, you need to keep this in mind while selecting the place to register your business.
Changing your jurisdiction later on is also possible. You can switch to a better location in the future once your business is well-established.
The time taken for obtaining a license and starting the business is very important factor too. You can understand that if the process is faster, usually the risk increases because regulatory checks are less. Usually it takes 2 – 6 months.
A lot depends on your targeted location of operations. Is it USA, UK, Europe, Australia, Asia, Russia? You'll need to think about the ease of doing business from the place you choose to register your business.
The jurisdictions of USA, Japan and Switzerland are the most secure and heavily regulated jurisdictions. The minimum capital to start a forex brokerage firm here is very expensive and the business model is different.
Pheasantech can help you out trough the entire process – starting from selecting the ideal jurisdiction to obtaining licenses, company formation, payment solutions, nominee services and promotion strategies. Also, you can get your website and CRM system designed and developed by the team of experts from Pheasantech. Starting your own forex trading business is easy, if you have the right partners who can give you insight into the industry. You can contact Pheasantech through a WhatsApp call, or email to [email protected], or you can fill a quick form so that our team can get back to you.
Get Started with Pheasantech
Recent Post



Category
Follow